cryptocurrencies
Five Things You Need to Know to Start Your Day
Get caught up on what's moving markets in Asia.
By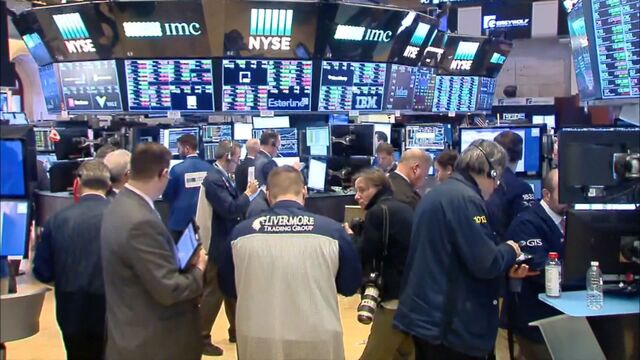 Want to receive this post in your inbox every morning? Sign up here.
Stocks whipsaw during the U.S. session, volatility gets volatile, and the RBI awaits. Here are some of the things people in markets are talking about.
A Selloff Turns Around
Asian equity markets look set to recover some of the losses sustained in the global rout after an interesting session in the U.S. — by which we mean, it was all over the place. That is, until the last hour or so of trading, when upward momentum took over, pulling the S&P 500 up 1.7 percent to nearly 2,700. The VIX fell (more on that later), while Treasury yields surged. Traders are watching how the moves unfold from here -- a sustained stock slump would have the potential to undermine consumer and business sentiment, crimp borrowing and potentially start to curtail global growth.
And Then the Volatility
The Cboe Volatility Index's huge gain on Monday meant there was a lot of fallout in volatility funds. Credit Suisse Group AG moved to liquidate one investment product and more than a dozen others were halted after their values sunk toward zero. The end to months of tranquility came fast, with the VIX soaring as much as threefold in just three days as $3 trillion was wiped from equities. Also, an inventor of the VIX said he doesn't know why retail products on the index even exist. (Just a note, though, that after all that the VIX ended Tuesday back below 30.)
Bitcoin Rollercoaster
Cryptocurrencies continued to whipsaw investors, sending Bitcoin to its lowest level since October before recovering, as worries over tighter regulation by U.S. authorities and central bankers elsewhere gave traders fresh reasons to exit after a brutal start to 2018. JPMorgan Chase & Co., Bank of America Corp. and Citigroup Inc. started to ban customers from using credit cards to purchase digital coins as industry executives zeroed in on a variety of ways they could get burned, according to people briefed on the decisions.
Meanwhile, in India
The Reserve Bank of India's job as the government's debt manager just got harder after the federal budget unveiled a near-record $95 billion borrowing plan in the coming fiscal year. Governor Urjit Patel needs to keep interest rates low to ensure Prime Minister Narendra Modi can bridge a widening fiscal deficit. But he also needs to bring down an inflation rate that breached the 4 percent midpoint of the target band late last year, and which is expected to climb as the government increases spending before a general election. All 37 economists in a Bloomberg survey predict the benchmark repurchase rate will remain unchanged at 6 percent today.  Separately, India's lenders, already struggling with $210 billion of stressed assets, may have to prepare for another hit as early as the coming financial year if new accounting norms kick in as planned on April 1. 
Coming Up…
In addition to the RBI, there will be a lot of data for Asia traders to digest Wednesday: New Zealand jobs, Japanese wages, Malaysian and Taiwan trade figures all loom, as do reports on FX reserves held by China, Hong Kong, Indonesia and the Philippines. The rest of the day brings U.K. house prices, a rate decision in Poland, Dallas Fed President Robert Kaplan discussing U.S. macroeconomic trends in Frankfurt, New York Fed President William Dudley and a Brazil rates decision.
What we've been reading
This is what caught our eye over the last 24 hours.
— With assistance by Garfield Clinton Reynolds
Before it's here, it's on the Bloomberg Terminal.
LEARN MORE