markets
Fear Gauges Beyond VIX Show Traders Don't Think It's That Bad
By
Treasury, EM, oil volatility jumps much less than VIX

Yen and franc fall, showing few investors flocked to havens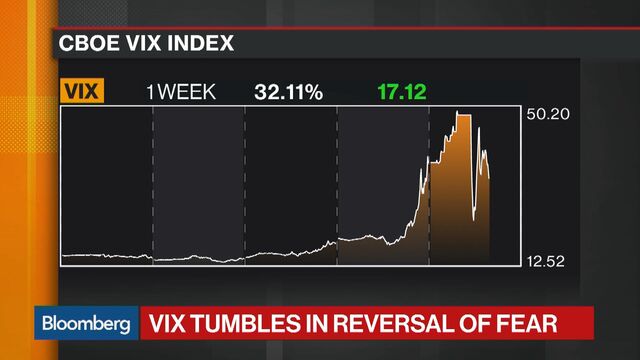 It ain't that bad. That's what gauges of fear and contagion outside of the equity market are telling investors.
Even with the Cboe Volatility Index touching the highest in more than two years on Tuesday, other benchmarks tracking trader expectations of turmoil, from Treasuries to emerging markets, haven't seen nearly as much angst.
"The fact that you're not seeing the volatility in the currency market, in the bond market, etc., is very reassuring," said Tony Roth, chief investment officer at Wilmington Trust Investment Advisors Inc. "Since the credit crisis, the equity market is much more volatile. That's where we seem to be seeing a lot of these institutional hedge-fund, program-trader type of investors playing."

The global equity selloff may have knocked down developing markets stocks, but it looks more like a stumble. The Cboe Emerging Markets ETF Volatility Index rose more than 40 percent in the past two days, yet it was still a small increase when compared to the U.S. VIX. It's is still at a record low against its American counterpart.

The spike in market volatility over the past day has been more pronounced in stocks than in bonds. However, the Treasuries market is far from standing idle, with the 10-year yield swinging through a range of more than 23 basis points already this week.
The TYVIX index, a measure of fluctuations in 10-year U.S. Treasury yields that's similar to the widely watched VIX, on Monday climbed to its highest level since April 2017, before pulling back slightly on Tuesday.

In the currency markets, Monday's turmoil caused only a short flight to safety. The Swiss franc and yen both fell on Tuesday even amid the swings in global stocks, showing traders aren't hitting the panic button. The currencies, traditionally havens in times of market stress, were among the biggest losers against the dollar and reversed Monday's gains.

The oil market also saw a jump in volatility, but it was just a moderate swing when compared to stocks. The CBOE/Nymex Oil Volatility Index closed at its highest level since November on Monday, while at-the-money implied volatility on Brent and WTI also traded at two-month highs.

Before it's here, it's on the Bloomberg Terminal.
LEARN MORE