ETFs Are Holding Up, Despite Volatility-Linked Trading Madness
By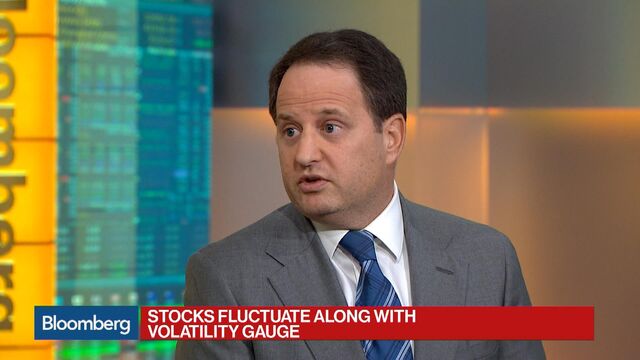 Did two exchange-traded products lose more than $3 billion in value Monday? Yes. Is this the ETF-led meltdown everyone's been warning about? Nope.
While the somewhat esoteric short-volatility products that plunged as much as 90 percent have soaked up the market's attention, there's no indication that the biggest, most popular exchange-traded funds added to the stress during Wall Street's worst day in almost seven years by hurting liquidity.
In fact, the SPDR S&P 500 ETF Trust, known by its ticker SPY, has traded close to $61 billion Tuesday, according to Bloomberg data. That's more than any other single stock, with Amazon.com Inc. the most traded among U.S. listed shares at $10 billion.

"Over the past few days ETFs have been close to 30 percent of total market volume, performed as designed, tracking their net asset values closely, and have provided an important source of incremental liquidity," said Josh Lukeman, head of ETF market making in the Americas at Credit Suisse Group AG.
Of course, it's not the large, highly liquid funds like SPY that have raised concerns. The explosion of ETFs, which have raked in nearly $500 billion over the past year in the U.S. alone, has led to the creation of niche products that use derivatives and leverage and focus on riskier corners of the economy in the hope of delivering outsized returns. That's what worries critics.
Betting against volatility, for example, has become a popular strategy during the recent period of market calm, and a number of issuers have stepped up to meet the demand, offering a plethora of ''short-vol'' products. But the exchange-traded notes and funds that give investors a quick and easy way of accumulating that position have been criticized for their risks. BlackRock Inc., the world's largest issuer of ETFs, has been calling for regulation that would clearly spell out the dangers associated with such products.
Still, for the rest of the market, ETFs and ETNs have been behaving as they're supposed to.
"The volatility notes are their own case with their own specifics," said Eric Balchunas, Bloomberg Intelligence analyst. "It's pretty much smooth sailing for ETFs."
— With assistance by Tom Lagerman
Before it's here, it's on the Bloomberg Terminal.
LEARN MORE