Commonwealth Bank Laundering Scandal Ends Run of Record Profits
By
First-half cash profit falls to A$4.87 billion on provisions

Lender sets aside A$375 million for any money-laundering fine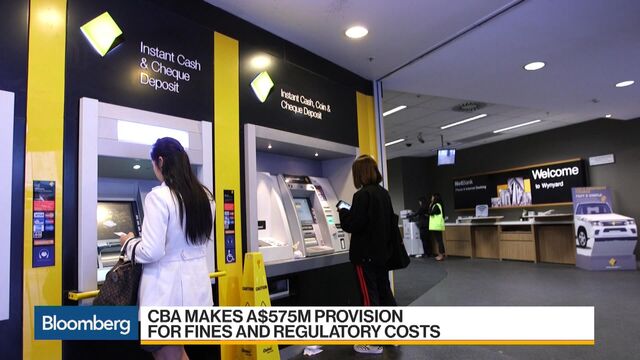 Commonwealth Bank of Australia's money-laundering scandal and a litany of regulatory woes have put an end to its run of record profits.
The nation's largest lender set aside A$575 million ($454 million) for potential fines from allegations it breached anti-money laundering rules, and to cover the cost of dealing with regulatory probes and compensating customers it mistreated.

Cash profit, including the provisions and discontinued operations, fell to A$4.87 billion in the six months ended Dec. 31, bringing to an end a run of nine record first-half profits. Without the provisions and adjustments, profit would have risen to A$5.1 billion, the bank said in a statement Wednesday.
For more details on the bank's first-half earnings, click here
The bank is facing a litany of legal issues, from defending a suit it breached anti-money laundering rules more than 50,000 times -- which has spawned two regulatory probes and a class action lawsuit -- to allegations it rigged a benchmark interest rate. The nation's biggest banks also face a wide-ranging inquiry starting next week into their treatment of customers.
The bank set aside A$375 million to pay any fines relating to the money-laundering case, saying it "believes this to be a reliable estimate of the level of penalty that a court may impose." Gaming company Tabcorp Holdings Ltd. last year agreed to pay a A$45 million penalty to settle 108 breaches, the biggest civil corporate penalty in Australia.
The bank took an additional A$200 million provision for expected costs relating to currently known regulatory, compliance and remediation programs.
It's the final earnings report for outgoing Chief Executive Officer Ian Narev, who last year announced his departure amid the fallout from the money laundering scandal. Matt Comyn, the 42-year-old head of Commonwealth's retail bank division, was last week named to succeed Narev in April.
"During this period, we have focused a great deal of effort on fixing our mistakes, and becoming a better bank," Narev said in the statement. "We recognize, and regret, that these costs arise from our failure to meet some standards that we should have. We will continue to work hard to do better."
Despite slowing mortgage lending, profit at the retail bank rose 8 percent from a year earlier, and accounted for more than half of the group's total earnings. The bank's net interest margin, a measure of the profit made on lending, rose to 2.16 percent from 2.10 percent as regulatory curbs on investor lending prompted banks to push up rates on landlord loans.
Before it's here, it's on the Bloomberg Terminal.
LEARN MORE