markets
Bulls and Bears Face Off Over Key S&P 500 Technical Indicator
By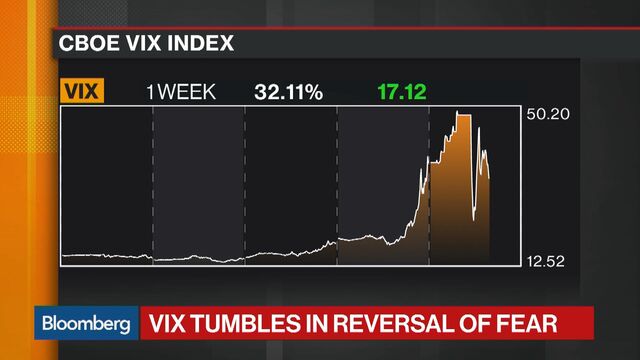 Up or down? The market can't seem to decide.
The Dow Jones Industrial Average has gyrated in a 1,000-point range Tuesday, seeking some stability after the biggest rout in 6 1/2 years. With volume more than double the last month's average, traders are waging the battle for the market's direction at a key line in the sand: the 100-day moving average.
Both the Dow and the S&P 500 Index plunged through that level at the start of trading only to rebound sharply in the next half hour. Since then, the S&P has crossed below the threshold at least a half dozen times, leaving chart watchers on edge. For them, there'll be a clear short-term market signal based on whether the major benchmarks close above or below the line.
"Like any support or resistance line, you can break it slightly but it still holds," Matt Maley, an equity strategist at Miller Tabak & Co, said by phone. "The fact that it broke it in a big way this morning is not a big deal because it only broke it for a nano-second. If it holds that level on the close, its going to be bullish for a stabilization move."

The S&P 500 hasn't closed beneath its 100-day average for 15 months, its longest streak since 1996. As of 12:55 p.m. in New York, the index was higher by 0.1 percent at 2,651, 16 points above the demarcation.
— With assistance by William Maloney
Before it's here, it's on the Bloomberg Terminal.
LEARN MORE