Investors' Expectations Might Be Too High for Mark Carney
By and
Investors are speculating on a more aggressive hiking cycle

Selloff in pound likely should BOE rhetoric fall short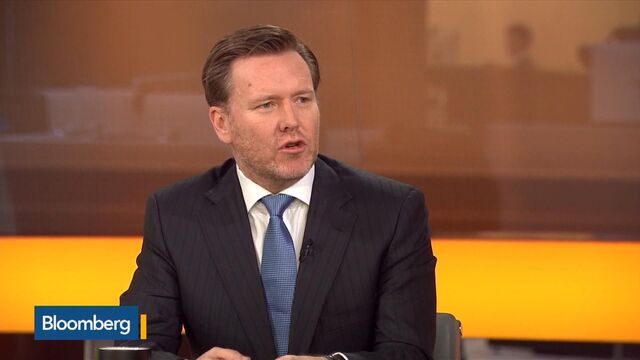 Investors have raised the bar for Mark Carney, boosting the chance the Bank of England governor fails to meet their lofty expectations this week.
Since the start of 2018, investors have priced in an increasingly aggressive path for U.K. interest rates. Despite paring expectations amid the global market slump in recent days, they still assign more than a 50 percent chance to a hike in May and see more than three hikes across the BOE's three-year policy horizon, even with Brexit looming next year.
The danger is those expectations may be too high for Carney when he presents the bank's Inflation Report on Thursday, risking a repeat of the selloff in the pound that followed the BOE's first hike in a decade in November.
Back then traders' path for rates was far more modest -- with just two more priced in over the next three years. But officials omitted language they had used previously saying markets were underpricing the rate trajectory. The pound tumbled 1.4 percent that day, and 10-year gilt yields fell eight basis points -- the biggest drop since 2016's rate cut.
For Jane Foley, head of currency strategy at Rabobank, heightened expectations this time around increase the chance of Carney falling short.
"There will be a majority of people anticipating him to be a bit more hawkish," she said. "If that doesn't come the market will be disappointed."
The shift in the market's outlook -- from the previous consensus of no move until the final quarter of 2018 -- follows upbeat growth and labor-market data. Carney also delivered a less pessimistic view of the economy in appearance before Parliament last week.
While expectations have slipped from higher than 60 percent earlier this week, investors still see at least a 50 percent chance of a move in May, rising to almost 80 percent in August -- up from 39 percent and 65 percent on Jan. 2. Economists are also more bullish. In Bloomberg's latest survey, 13 out of the 32 respondents predicted a May increase, more than any other month, while a further five see a move in August. Some, including the EY Item Club, even see two hikes in 2018.
Read More: Carney Faces Up to Newly Hawkish Market
The pound may be more susceptible to a drop this week given its moves so far in 2018. The currency climbed more than 5 percent against the dollar in January, its best start to the year on record, and hedge funds are the most bullish on the currency since 2014. The U.K. currency has fallen about 2 percent since stocks started slumping on Friday but, at about $1.40, it's still up from $1.3245 the day before the BOE's November hike.
Brexit Complication
The hawks' case is also made more complicated by Brexit. UBS Group AG, one of the banks to switch their forecast to May last week, did so on the condition that a transition period for the time after Britain leaves the European Union is worked out soon. Officials have also said that negotiations may have policy implications in either direction.
That makes it more difficult for investors to lock in a path of rates, and boosts the prospects of Carney tempering any hawkish shift.
"In November there was definitely some positioning in the market hoping to get the green light to really price in a bull hiking cycle -- they didn't give that," said Andy Chaytor, head of European rates strategy at Nomura International Plc, which expects four hikes over the next two years. With Brexit hanging over the U.K. "is it clear we'll get that in February? I wouldn't say it's necessarily clear."
Before it's here, it's on the Bloomberg Terminal.
LEARN MORE