markets
BNP Targets Higher Profitability as Corporate Banking Misses
By
Improving interest-rate environment likely to support growth

BNP posts quarterly profit matching estimates; retail beats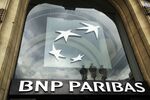 The biggest market sell-off in more than six years isn't denting BNP Paribas SA's confidence, with the French bank saying that it may exceed its 2020 profitability target as Europe's economic expansion takes hold.
An improving interest-rate environment is likely to support growth, France's largest lender said Tuesday as it reported fourth-quarter profit and trading results mostly in line with analysts' estimates, though corporate banking did less well than expected because of higher one-off loan loss provisions. While BNP didn't provide details, banks such as UBS Group AG reported similar losses because of their exposure to Steinhoff International Holdings NV.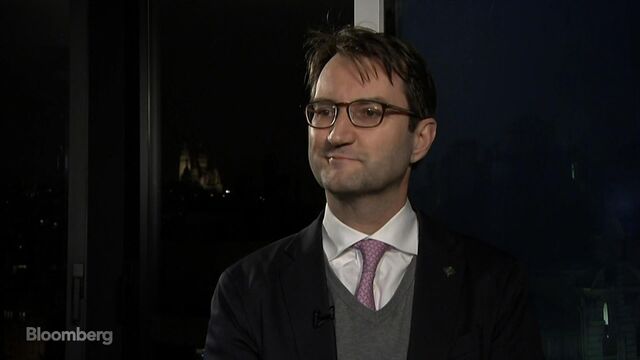 BNP announced its goals last year, before Emmanuel Macron won the French presidency and vowed to help business and loosen labor laws, and on Tuesday said it's aiming for return on equity to surpass its 10 percent target for 2020. Macron's reforms may give more fuel to an economy that expanded in 2017 at the fastest pace in six years, helping French banks boost lending volumes and partly offsetting historically low interest rates.
"We are off to a good start" for those targets, Chief Financial Officer Lars Machenil said in an interview with Bloomberg Television. "If, on top of that, the economic outlook crystallizes going forward, then we are expecting to beat our target of a 10 percent ROE."
Still, BNP's notes of optimism were largely overlooked amid a market sell off. The stock declined as much as 6.1 percent, and was down 4.4 percent by 1:22 p.m. in Paris.
Alain Papiasse, deputy chief operating officer overseeing BNP's corporate and investment bank, said on Tuesday that increased volatility in rates, currencies and other securities generally translates into more demand for markets products from clients. Still, COO Philippe Bordenave said the weak dollar will likely be a "negative element" weighing on the bank's earnings in the first part of 2018.
BNP, which gets most of its revenue from consumer banking activities, posted quarterly revenue at its French retail network of 1.54 billion euros ($1.91 billion), down 0.4 percent. Revenue at the local retail unit has shrunk for several years in a row, showing how any improvement in the rate outlook for its key markets remains crucially important.
Corporate Banking

Corporate banking profit before tax was 242 million euros, compared with analyst estimates for earnings of 425 million euros, Credit Suisse Group AG analysts led by Jon Peace wrote in a note to investors. The bank flagged the impact of "two specific clients this quarter," without identifying them.
BNP is one of the rare European players targeting an increase in trading revenue. In the fourth quarter, it had a 14 percent decline in income from a year earlier to 1.07 billion euros from buying and selling stocks, bonds and other securities. That was in line with the 1.08 billion-euro average estimate of four analysts compiled by Bloomberg News.
BNP did better than Deutsche Bank AG, where sliding trading revenue and other issues surprised investors and sent the stock tumbling on Friday. Still, the French bank posted its lowest quarterly trading revenue in at least two years, showing how the industry-wide slump in revenue from bond trading offset bright spots in equity derivatives and prime services, where income rose.
Thanks to the corporate and investment bank's combination of different trading businesses, BNP "resisted well in the turmoil of the second half," Machenil said.
Chief Executive Officer Jean-Laurent Bonnafe, 56, wants to make France's largest lender one of the top three European players in trading and corporate banking. BNP is eyeing growth in key markets including Asia, the U.K. and Germany as well as in the U.S. In November, it decided to start a partnership with New York-based Global Trading Systems LLC to boost its share of the market in U.S. Treasuries.
Here are other highlights from BNP's quarterly earnings:
4Q net income EU1.43 billion, matching average analyst estimate
4Q sales EU10.53 billion; estimate was for EU10.42 billion
4Q bad-loan provisions EU985 million; estimate was for EU795 million
BNP to propose dividend of EU3.02/share for 2017, up about 12 percent
CET1 capital ratio at 11.8 percent at end December, stable from Sept. 30
BNP reaffirms 2020 goals for revenue growth, cost savings
(
Updates with comments on volatility, dollar in 6th paragraph.
)
Before it's here, it's on the Bloomberg Terminal.
LEARN MORE