Before the Machines, Human Emotions Set the Stage for a Selloff
By and
Pace of EPS increase is 4 times faster than any time since '12

Wall Street's EPS estimates will come down later in '18: BofA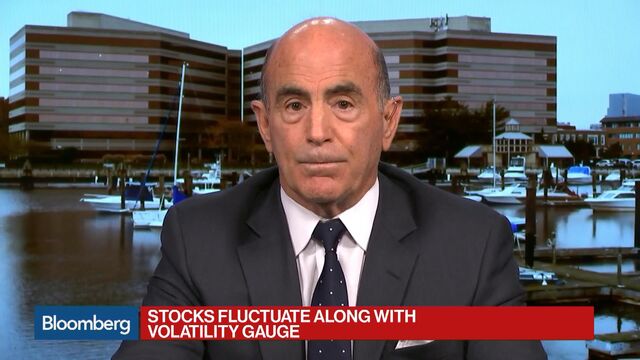 You've heard all about the robots. But the selloff that's ripped through the stock market over the last six days would never have gotten off the ground without people at the controls.
While machines got all the press, the stage was set by individuals, often making decisions based on uniquely human emotions like the fear of missing out. Those who hadn't touched stocks in years poured back in. Enough that trades from just two retail shops -- E*Trade Financial and TD Ameritrade -- accounted for more than one-third of the volume on the New York Stock Exchange last month. That's triple levels in 2016.

"People put a record amount of money into stocks in January -- you can't say it's algos that did that," said Donald Selkin, New York-based chief market strategist at Newbridge Securities Corp. "Machines exacerbated the selloff, but it is the combination of machines and humans that is to blame."
Ask a bull trying to keep his head and he'll point out how fast analysts say earnings are poised rise. Optimism around profit expectations helped push equities to their best January return in three decades. Now those gains are gone. The carnage of the last week shows the hazards of a rally built on hope.
While everything from program selling to volatility-targeting funds have been implicated, this week's events have a thoroughly human ring. Call it priced to perfection or hope springs eternal, but individuals spent January lifting stocks on the promise of an earnings bounty that is two years from materializing. One which a dozen things could sidetrack.
"This probably is coming as a shock to them," said Quincy Krosby, the chief market strategist at Prudential Financial Inc., which manages about $1.3 trillion. "It's probably tarnished their view of the equity market because they came in with a constructive background to the market. They then see that they made a huge mistake. This was a lesson, and that lesson is that markets don't just go up, they go down."

More than anything, rising earnings forecasts help explain the magnitude of the S&P 500's rally in January, which added $1.6 trillion to U.S. equity values before the selloff. From $145.90 a share in mid-December, analysts have raised 2018 earnings projections to $156.20 now. That's four times faster than any period since 2012.
Consider their impact on valuations, especially in the wake of President Donald Trump's tax overhaul. Using earnings reported in the past 12 months, the S&P 500 trades at a price-earnings ratio of 22.1, among the highest since the dot-com era. Go with forecasts for 2019 and the multiple falls to about 16 -- average for the last half century.
"Ultimately, I think the numbers have gone too high, and later this year you'll probably see these earnings estimates start to drift back down," said Dan Suzuki, a senior equity strategist at Bank of America. "I pretty heavily discount analysts' expectations this early on in the year."
Optimism about the tax rewrite and evidence of a synchronized upswing in global economic growth underpinned the rush to upgrade profit projections over the last seven weeks. That was the easy part. For earnings actually to reach the heights foreseen by analysts, the dollar, financing rates, inflation and the Federal Reserve will also need to play along.
Wall Street's record of success in predicting corporate earnings doesn't exactly instill confidence. From 2007 to 2017, the actual pace of S&P 500 per-share earnings growth was on average 7.4 percent lower than what analysts had expected at the end of the previous year, data compiled by Bloomberg show.
According to research by Bloomberg Gadfly columnist Nir Kaissar, analyst forecasts are so unreliable that investors are better off ignoring them, and simply assuming earnings in any given year will be the same as the previous one.
From a broker's standpoint, business has been good. Client activity at TD Ameritrade hit a record as the number of daily trades surged almost 50 percent in the past year. Tim Hockey, the firm's chief executive officer, said in an earnings release last month that "a significant portion of new clients have indicated they are new to investing."
At E*Trade, the number of trades from which a broker can generate revenue is the highest on record.
Ever-optimistic, strategists are saying what they always do: hang on, fundamentals remain strong. Even if what lies ahead is more like a rollercoaster ride.
"What you have is this is a correction, not the start of an economic recession," said Brent Schutte, chief investment strategist of Northwestern Mutual Life Insurance Co.'s wealth-management unit. "Corrections occur when people are positioned wrongly and have to position for the new environment. They can be sharp, but short."
For more on AI trading, check out the Decrypted podcast:
— With assistance by Wendy Soong
Before it's here, it's on the Bloomberg Terminal.
LEARN MORE