Battery Ventures Raises More Than $1 Billion for New Funds
By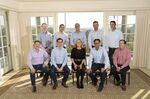 Battery Ventures raised more than $1 billion for two new funds, underscoring the steady flow of money into the venture capital business.
Its main fund, Battery Ventures XII, closed at $800 million, along with a side fund of $450 million designed specifically for larger investments. That compares with the $650 million Fund XI, and a side vehicle of $300 million, raised two years ago.
"We've never been an organization where bigger is better when it comes to fund size," said general partner Scott Tobin. But in an era of startup companies commonly worth more than $1 billion, Battery, which invests in all VC stages, can use the cash.
The firm sees opportunity in chips and hardware, which are changing because of cloud computing, self-driving cars and other trends, Tobin said. Unlike past shifts -- such as the transition to smartphones where established chipmakers dominated -- this time the field is open to startups, too, he said.
Battery is also competing with much larger rivals, such as NEA's $3.3 billion vehicle raised last year, and SoftBank Group Corp.'s Vision Fund of almost $100 billion.
Before it's here, it's on the Bloomberg Terminal.
LEARN MORE