Film
'Game of Thrones' Creators to Work on New 'Star Wars' Films
By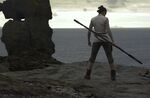 Game of Clones?
David Benioff and D.B. Weiss, creators of the hugely popular HBO series "Game of Thrones," have signed on to work on a new slate of "Star Wars" movies, Walt Disney Co. said Tuesday.
The pair will work on all-new films, separate from the currently running saga as well as the trilogy being developed by Rian Johnson, who wrote and directed the current "Star Wars: The Last Jedi." In all this means at least seven "Star Wars" films are in development.
"David and Dan are some of the best storytellers working today," Kathleen Kennedy, president of Disney's Lucasfilm, said in a statement. "Their command of complex characters, depth of story and richness of mythology will break new ground and boldly push 'Star Wars' in ways I find incredibly exciting."
No release dates were given.
Before it's here, it's on the Bloomberg Terminal.
LEARN MORE