Venture Capitalist Pishevar Drops Suit Against Research Firm
By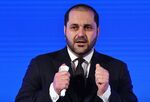 Venture capitalist Shervin Pishevar is dropping a lawsuit against a Washington-based research firm he accused of engaging in a smear campaign against him.
On Friday, Pishevar's lawyers requested that the case be dismissed and indicated he wouldn't try to refile it. In the initial complaint, filed Nov. 6 in state court in San Francisco, Pishevar claimed that Definers Public Affairs had tried to spread false information about him to reporters and others. Definers denied the allegations, saying it had nothing to do with accusations against Pishevar, including that he raped a woman.
In May, Pishevar was arrested at a hotel in London after a woman accused him of rape. Police said Pishevar was "released under investigation" and never charged. In November, Forbes and other publications reported on a document purported to be a police report, which turned out to be fabricated, according to London police. Pishevar has acknowledged he was detained briefly and says the assault claim was untrue.
"I now intend to continue to focus my full attention on those who should ultimately be held responsible for the smear campaign that has been waged against me," Pishevar said in a statement released late Friday. He referred to the fraudulent police report, saying it was being investigated by law enforcement. "We are hopeful the culprits will be found and justice will be served," he added.
No damages were paid in the Definers complaint, Pishevar said in the statement. Definers didn't immediately respond to a request for comment.
Uber, Airbnb
Since filing the lawsuit, Pishevar's challenges have continued. On Nov. 30, Bloomberg published an article in which several women alleged misconduct by Pishevar. The prominent venture capitalist, known for an early investment in Uber Technologies Inc. as well as early bets on Airbnb Inc., Warby Parker and Tumblr, denied the allegations. Later, two prominent lawmakers returned donations from him.
In December, he took a leave of absence from the futuristic transportation company he co-chaired and founded, Virgin Hyperloop One, and stepped down from the venture capital firm he co-founded, Sherpa Capital. Both businesses were at crucial points, with Virgin Hyperloop narrowly avoiding running out of cash late last year and Sherpa Capital trying to raise another fund.
Definers was founded by Republican campaign veterans.
The case is Pishevar v. Rhoades, CGC-17-562305, Superior Court of California, San Francisco County (San Francisco).
Before it's here, it's on the Bloomberg Terminal.
LEARN MORE