business
Shkreli's Forfeiture Could Give U.S. Stake in Notorious Drug Firm
By and
Prosecutors are demanding Shkreli turn over $7.4 million

Shares of company that hiked Daraprim price are on the table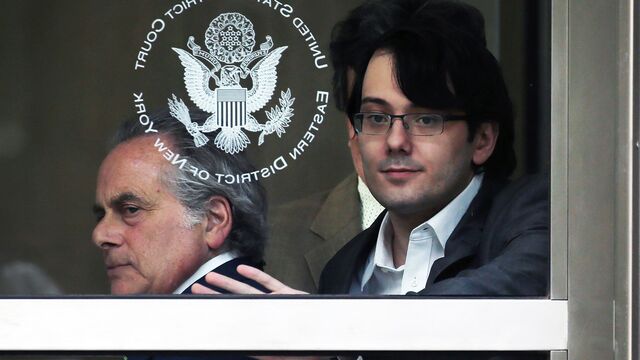 What to do with that Wu-Tang album could be the least of the government's problems.
If prosecutors win an order forcing Martin Shkreli to forfeit $7.4 million, the government could become part-owner of a pharmaceutical company that notoriously raised the price of an AIDS-related medication by 5,000 percent.
Vyera Pharmaceuticals -- formerly called Turing Pharmaceuticals -- sells Daraprim. Under Shkreli's leadership, the company raised the price after buying the medication, throwing a spotlight on skyrocketing drug costs. Shkreli stepped down as chief executive after his arrest in December 2015.
Price-gouging isn't at issue. Prosecutors want Shkreli to turn over money he wouldn't have if not for his crimes -- lying to hedge-fund investors about his track record and performance as well as an illegal plan to control shares of another drug company he founded, Retrophin Inc.
They have their sights set on $5 million in Shkreli's personal trading account, along with other assets including the one-of-a-kind special edition album by the Wu-Tang Clan, a "low-dollar" Picasso and the Turing shares.
A hearing on the request is scheduled for Feb. 23 before U.S. District Judge Kiyo Matsumoto in Brooklyn, New York. It'll be the first time Shkreli appears in court since his bond was revoked in September and he was jailed. He's due to be sentenced March 9.
Prosecutors usually win approval for forfeitures without much of a fight, but two factors complicate Shkreli's case.
Why Shkreli Is Guilty When Investors Didn't Lose: QuickTake Q&A
For starters, he argues he shouldn't have to forfeit anything because he didn't profit from the crimes. Money from his investors went into the stock market, and he didn't get anything from his plan to control Retrophin shares, his lawyers have said. Investors ultimately got their money back, and more, through settlements and consulting agreements Shkreli arranged.
"There should be no forfeiture because there was no loss," defense lawyer Benjamin Brafman said after a Jan. 31 hearing. "He made them money."
It's also tough to value Shkreli's property. He bought the Wu-Tang Clan album for $2 million in 2015 but its authenticity is in dispute and it's not clear what prosecutors might get for it. Shkreli put the album on eBay in September, drawing attention with a winning bid of $1 million, but the deal wasn't consummated. Brafman declined to comment on the Picasso.
Twitter Suspends 'Pharma Bro' Shkreli After Harassment
More valuable may be Shkreli's interest in Vyera. His lawyers said his 48 percent stake is worth $30 million to $50 million. But it's a private company and the stock isn't liquid. A sudden sale of almost half the shares could throw Vyera into disarray, they said.
"A fire sale for the benefit of the government will have a devastating impact on innocent people -- including current Vyera employees, current shareholders and countless patients waiting for Vyera's anticipated treatments for certain orphan and rare diseases," Brafman said in a court filing.
Vyera representatives didn't respond to a request for comment.
"The government deals with this all the time," said Sharon Cohen Levin, a former federal prosecutor who handled forfeitures in a 25-year career, including racehorses, Bitcoin and, in one case, the $715 million sale of a cable company after a fraud conviction. She said it wouldn't make sense to allow a defendant to keep assets only because "it's difficult" for the government to sell the property.
Enigma Machine
Aside from the stock and collectibles, Shkreli has little else of value, his lawyers said. One item prosecutors sought -- a World War II-era Enigma coding machine -- was seized by New York state authorities and sold at auction to cover tax liabilities. Shkreli still owes almost $1.5 million in state and federal taxes, according to his lawyers.
If the U.S. wins and Shkreli has no other assets that can easily be sold, the government could get a portion of his stake in Vyera to satisfy the judgment. The judge will have discretion over how the process works.
"The court can say whatever shares Mr. Shkreli has are to be forfeited as substitute assets because they can't find the actual proceeds of the crime," said Stefan Cassella, a former Justice Department forfeiture specialist.
Shkreli might be allowed to sell a portion of his stake on his own. If the shares are worth tens of millions of dollars, demanding he surrender them all might be asking too much, possibly treading on constitutional protections against excessive fines.
"Can the government force the sale of the company?" asked Steven L. Kessler, a Manhattan lawyer who also specializes in forfeiture. "I would argue no, and I don't think any judge in their right mind would permit that."
Before it's here, it's on the Bloomberg Terminal.
LEARN MORE