markets
Private Equity Likes Copper and Battery Metals as Deals Rebound
By
PE deals in mining industry rose about 30% to $2.3 billion

Copper, gold and battery metals were favored, law firm says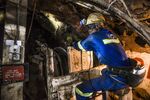 Private-equity deals in the mining industry rebounded last year as copper and battery metals enticed investors, according to U.K. law firm Berwin Leighton Paisner.
The value of such deals in the industry jumped by almost a third to $2.3 billion, with copper, gold and battery materials being the most attractive commodities, according to a report from the law firm. The amount was still below a peak of $3.2 billion in 2015, when some of the biggest mining companies were forced to shed assets amid a collapse in commodity prices.
Copper is often seen as a barometer of the world's economic health and rallied 31 percent last year, while metals such as cobalt and lithium climbed amid an electric-vehicle boom. The move into those materials is a trend that's likely to continue, Berwin Leighton Paisner said.
"With the continued recovery in the sector, 2018 is expected to see an ongoing deployment of capital by the mining private equity funds," Alexander Keepin wrote in the report. "Battery metals, copper and gold are expected to continue to be the most popular commodities."
Copper overtook gold as the most attractive commodity in 2017, with $1.6 billion in deals, according to the report. The metal's price will probably extend gains this year, Goldman Sachs Group Inc. said last week. Battery materials lured $175 million of private equity money last year.
It was a different story for coal, which saw private-equity deals slump about 70 percent last year to less than $100 million.
Almost half of the private-equity investments last year were in Africa, more than the total of all deals in the previous three years, Berwin Leighton Paisner said. The enthusiasm for African resources will be among some of the key talking points as the mining industry meets in Cape Town this week.
Read more: Electric cars and niche metals lure cash to Africa's mines
Before it's here, it's on the Bloomberg Terminal.
LEARN MORE