Otto Warmbier's Father to Join Pence at Olympics in South Korea
By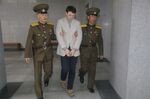 The father of Otto Warmbier -- the American student who died last year after being jailed in North Korea -- will join Vice President Mike Pence as his special guest at the Winter Olympics Opening Ceremonies in South Korea this week, a Trump administration official said.
Pence invited Fred Warmbier to dramatize the human rights abuses of the Kim Jong-Un regime as the vice president attends the ceremonies with a mission to counter North Korean propaganda at the games, said the official, who briefed reporters on condition of anonymity.
Pence leaves Monday for a five-day trip to Japan and South Korea, where he will lead the U.S. delegation to the Olympics in PyeongChang. North Korea and South Korea plan to march together under a single flag during the program, and Warmbier will sit with Pence and his wife during the ceremony.

During his state of the union speech last week, President Donald Trump invoked the Kim regime's mistreatment of Otto Warmbier, a University of Virginia student who was arrested and sentenced to hard labor in North Korea in 2016 after he allegedly tried to steal a propaganda poster from his hotel in the capital, Pyongyang. Warmbier was in a coma when the student was later released by North Korea and died shortly after he returned to the U.S.
The Trump administration is staying in close contact with South Korea as the U.S. ally engages in preliminary talks to ease tensions with Pyongyang. While North Korean officials will also be present at the Olympic ceremony, Pence will not meet with them, the official said.
Before it's here, it's on the Bloomberg Terminal.
LEARN MORE