business
Norway's Housing Market Slump Shows No Letup
By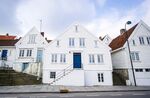 Norway's housing slump continued in January, providing a challenge for the central bank as it prepares to move to a tightening stance.
House prices in Scandinavia's richest economy fell by a seasonally adjusted 0.4 percent in January from December, and were down 2.2 percent on an annual basis, Real Estate Norway said in a monthly report. Unadjusted prices rose 2 percent in the month.
"It is a bit too early to say that the downward trend in housing prices is over," said Erik Bruce, an economist at Nordea Bank AB. Still, Nordea predicts that "prices soon will level out" given that "the economy is improving and rates are low," he said.
The krone held on to gains after the report, trading at 9.61 per euro as of 11:15 a.m. in Oslo.
After an extended period of rapid growth in house prices and mortgage debt amid ultra low rates, the market reversed course in the spring of last year, driving the Norwegian krone toward a near all-time low against the euro in December.

The reversal followed a temporary tightening of lending. The government has since asked the Financial Supervisory Authority to advise on the impact of those rules and whether they should be extended past their June 30 expiration date. The FSA will give its advice to the Finance Ministry by March 1.
As of January, a new methodology is being used to compile house prices, with the revised data showing a more modest nationwide decline than previously reported. The new data nevertheless showed a bigger drop of 10.5 percent in the capital, Oslo.
The central bank referred to the improved house price data in its most recent rate decision.
The "price development in January was weaker than what is normal for the month," said Christian Vammervold Dreyer, the chief executive officer at the group. "Despite the slight increase the trend is still for falling housing prices in Norway."
Before it's here, it's on the Bloomberg Terminal.
LEARN MORE