markets
Mom and Pop Keep One of Wall Street's Favorite Trades Afloat—for Now
By and
Despite last week's slump, risk-parity has been chugging along

Funds are in danger of ETF equity inflows reversing, JPM says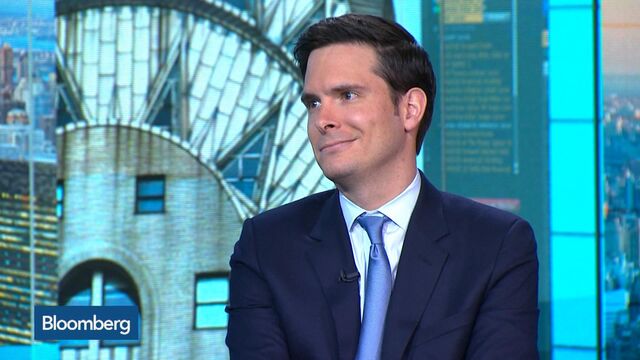 Wall Street's math whizzes have retail investors to thank for keeping their damage contained. For now.
If you make your livelihood going long stocks and bonds, this past week was especially painful as Treasury yields spiked and global stocks tumbled the most in two years. Risk-parity funds -- which, simply put, operate simultaneously in a bunch of different asset classes, weighting their stakes in each according to volatility -- tumbled 3.2 percent for their worst week since September 2014, according to the Salient Risk Parity index.
While the bond market's weakness failed to hinder risk-parity returns earlier this year, last week showed what can happen when equities join in the selloff, crushing a winning portion of the strategy that has been fueled in large part by inflows into stock markets and exchange-traded funds, JPMorgan says. Traders have poured a record $78 billion into ETFs in January and $4.5 billion in the biggest fund tracking the S&P 500 Index last week, data compiled by Bloomberg show. Should those inflows reverse, there could be trouble ahead.

"If these equity ETF flows, which we believe are largely driven by retail investors, start reversing, not only would the equity market retrench, but the resultant rise in bond-equity correlation would likely induce de-risking by risk-parity funds and balanced mutual funds, magnifying the eventual equity market selloff," JPMorgan's global markets strategy team, headed by Nikolaos Panigirtzoglou, wrote in a note Friday.
Theories have abounded for years about what happens when risk-parity funds sustain serious injuries like last week. They've enjoyed a bond and stock bull market, but as volatility and correlations begin to behave unexpectedly, a cascade of selling will worsen any market stress, the thinking goes.
Now, some of the conditions that JPMorgan strategists warn of are beginning to materialize. Volatility has ticked higher across asset classes, and correlations between equities and bonds has moved toward positive territory.
To be sure, it takes sustained changes in market environments for risk-parity funds to change course, unless the managers use a stop-loss that triggers selling amid poor returns. Otherwise, risk-parity will use data inputs from roughly the past year to judge holdings, and one week does not make a trend.
Your Guide to the Many Flavors of Quant: QuickTake Scorecard
Losses in most risk-parity funds on Friday weren't catastrophic -- AQR Capital Management's, for instance, fell only 2 percent while the Salient index fell 1.3 percent. That's "not exactly a head shot," said Roberto Croce, director of quantitative research at Salient Partners LP, who noted that something closer to the order of a 5 percent draw-down would signify trouble.
"Most managers haven't put on much leverage," Croce said. "They know there can be these changes in the environment and their models don't change that fast. There's no one in risk-parity land waiting for one market move to delever."
Most models are adaptable. Should an inflation shock turn stock-bond correlations positive over a longer-time horizon, risk-parity models will just rotate into commodities as source of negative correlation, Croce said.
Though volatility is a sell signal for the levered investment vehicles, some also point to cross-asset correlations as another. If assets like stocks and bonds start to move in unison, diversification-minded risk-parity algorithms will sense a threat and start to deleverage. Last week, markets got a taste of that possibility: Weekly correlation between the SPDR S&P 500 ETF Trust and the iShares 20+ Year Treasury Bond ETF has jumped into positive territory, data compiled by Bloomberg show.

"This is a nightmare scenario for modern, balanced portfolios such as risk-parity, and narrows the options available to hedge risk to volatility longs or outright shorts," said Julian Brigden, a hedge-fund consultant at Macro Intelligence 2 Partners.
The worst-case scenario? A sustained positive co-movement between stocks and bonds, in concert with a slowdown in equity inflows. That could lead to sustained losses in risk-parity.
So far this year, fresh money has poured into global shares at a frenetic pace. Investors sent $25.7 billion into stock funds in the week ended Jan. 31 -- the fastest-ever rotation out of Treasuries and high-yield debt -- taking the total year-to-date inflow to a "remarkable" $102 billion, according to a Bank of America Corp. note citing EPFR Global data.
To Peter Tchir, the head of macro strategy at Academy Securities Inc., shifts in correlations and investment performance may be less crucial in projecting the fortunes of risk-parity this year than investor loyalty. Big inflows into the funds helped push the asset class into the mainstream. The staying power of such investors will be tested if the nascent Treasury losses gather pace.
"If risk-parity lite is as easy as buying TLT and QQQ (a long-Treasury fund and the Nasdaq fund) or owning blues and spoos (Eurodollar futures contract and S&P 500 e-mini contracts), it might be just as easy to unwind?," Tchir wrote in a weekend note.
(
Updates eighth paragraph to include Friday trading.
)
Before it's here, it's on the Bloomberg Terminal.
LEARN MORE