Lloyds Plans Around 1,000 Job Cuts Ahead of New Strategy
By
Staff were informed of the job reductions at end of January

Lender will announce its new strategy plan on February 21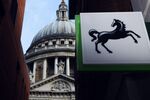 Lloyds Banking Group Plc is eliminating around 1,000 jobs across six businesses as Chief Executive Officer Antonio Horta-Osorio prepares a fresh strategic plan for Britain's largest mortgage lender.
The lender informed some staff last month and the majority of the cutbacks will take place across commercial banking, its chief information office, risk, community banking, insurance and wealth, a spokeswoman said in an email to Bloomberg News on Monday. The bank also eventually plans to add back 465 roles across its businesses, she said.

"Where it is necessary for employees to leave the company, we will look to achieve this by offering voluntary redundancy," the spokeswoman said in the statement. "Compulsory redundancies will always be a last resort."
Lloyds's annual earnings and details of the three-year plan are scheduled for Feb. 21. Analysts expect Horta-Osorio's new strategy to feature more cost reductions and investment in technology as customers move online. The lender said in November that it will be closing branches under the Halifax, Bank of Scotland and Lloyds brands in 2018.
"When you are operating in an environment where there is little to no top-line growth and impairments are already at an all-time low, the only lever you can really pull to affect profit growth is to cut costs with staff being the biggest part of this," Gary Greenwood, an analyst at Shore Capital in Liverpool said in an email.
The bank, which had 70,255 staff as of the end of June, has shrunk from about 99,000 employees in 2011, the year Horta-Osorio became CEO.
Before it's here, it's on the Bloomberg Terminal.
LEARN MORE