Rolls-Royce developing smart turbines that can self-adjust

Power-plants will be able to adapt to the weather, saving fuel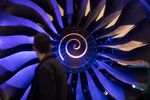 Jet engines used to be slung under a plane's wing and then largely forgotten about until they came into the hangar for a checkup. More recently they've graduated to data downloads that allow engineers to devise maintenance regimes while aircraft are still flying.
The next generation of turbines will be way smarter again, according to Rolls-Royce Holdings Plc, communicating with each other to share readings such as weather data so that their blades can be perfectly angled and thrust adjusted to minimize fuel burn -- all without any input from the pilot.

"With the digital revolution blurring the boundaries between our physical products and the services we provide, we see a future where our engines are connected, contextually aware and even comprehending," Dominic Horwood, Rolls's director for customers, said Monday at the Singapore Air Show.
Further into the future, power-plants may even become advanced enough to detect their own ailments via 70 trillion data points and then effectively self-heal, perhaps even deploying an army of robotic worms to crawl around making fixes as they go, Horwood added.
The U.K. company aims to apply enhancements from its IntelligentEngine program to the new Ultrafan turbine, slated to enter service by 2025 on jetliners that could include Boeing Co.'s planned 797 mid-market jet.
Before it's here, it's on the Bloomberg Terminal.
LEARN MORE