markets
This Hedge Fund Thinks the Euro's Rise Will Keep Going
By
SEB Diversified sees gains in Australian, NZ dollars

Fund has pared bets on government bonds, follows stock trend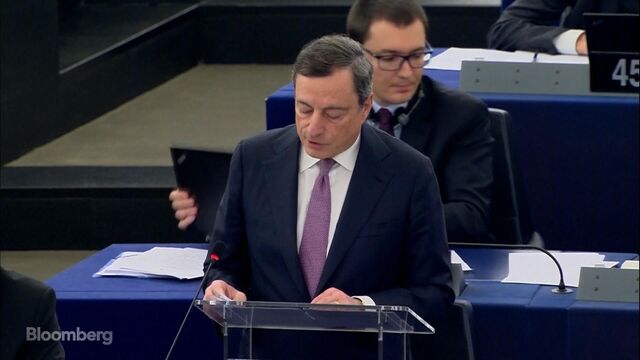 A hedge fund at Sweden's SEB AB that delivered a return of more than 16 percent in 2017 is betting that the rise of the euro will continue.
"We're most optimistic on the Australian dollar, the New Zealand dollar and the euro," Hans-Olov Bornemann, head of SEB's global quant team, said on Monday. "We're most bearish on the British pound and the U.S. dollar. We believe that these two currencies will weaken against basically all other currencies."
The euro has strengthened in the past year driven by revived economic growth in the 19-nation currency union. It has strengthened around 20 percent against the U.S. dollar since reaching a low in December 2016.

"Our trend models have been riding the positive trend in the euro, not only against the U.S. dollar but also against the Swiss franc and the Japanese yen," said Bornemann, who manages about 20 billion kronor ($2.5 billion) in hedge funds.
Bornemann is now planning on starting to market the 1 billion-krona SEB Diversified fund later this year after it has been up and running for three years. He expects it could grow bigger than the SEB Asset Selection strategy, which manages close to 20 billion kronor.
"This is something that many are looking for," he said. "They think it's comfortable to buy something that is ready-made, an all-in-one product."
SEB Diversified is a multi-asset and multi-strategy all-weather fund that targets a return of risk-free rate plus 10.5 percentage points. It uses market-directional, risk-premium and market-neutral strategies to maximize the risk-adjusted return for the fund on a stand-alone basis. In 2017, it returned 16 percent and beat 94 percent of its peers, according to data compiled by Bloomberg.
The fund has taken down exposure to government bonds but is still long due to risk-premium strategies. It's also long equities because of trend-following positions.
"We continue to carry long positions in equities in spite of the current profit-taking," he said. "Should the sell-off continue, however, our trend-following models will dynamically reduce the overall exposure to equities. That's the beauty of trend-following strategies."
Before it's here, it's on the Bloomberg Terminal.
LEARN MORE