markets
Goldman Sees S&P 500 Risks Going Either Way, Urges Options Hedge
By
Strategist Kostin still sees path to exceeding year-end target

Positioning data concern, P/E unlikely to push above 18x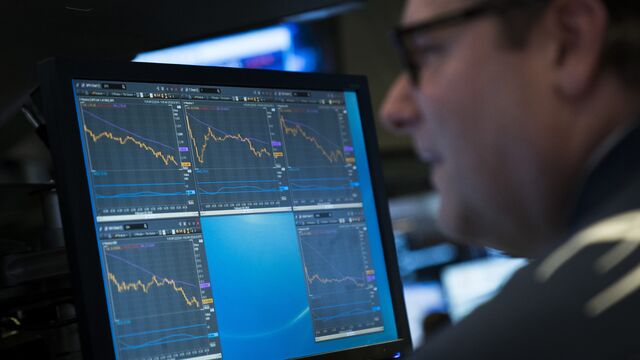 Goldman Sachs Group Inc. sees such extensive risks in its year-end S&P 500 Index target of 2,850 -- both positively and negatively -- that it's advising clients to use options to maintain their upside exposure but limit risk.
There's a lot to be positive about out there, strategists led by David Kostin wrote in a note to clients. Stronger economic growth, higher commodity prices and a weaker U.S. dollar than their baseline assumptions could push the S&P 500 to as high as 3,000. In addition, investor positioning points to further gains, with the potential for U.S. households to allocate more to stocks and a "significant upside" for equities demand from corporations given gains in the gross domestic product and windfalls from tax reform.
The report discounts concerns of a repeat of 1987, when a 13 percent return in January preceded an unprecedented drop in equities that October, saying that such a focus overlooks "other historical episodes that suggest a much better outlook" this year.
"Of the 12 other years since 1950 that started with a January return greater than 5 percent, 1987 is the only one in which the February-December return was negative," Kostin's team wrote in the note dated Feb. 2.

That said, there is cause for concern. Rising interest rates will prevent valuations from expanding above the current 18 times price-to-earnings ratio on the S&P 500, the strategists said. They also see some positioning data as pointing to caution, including CFTC equity-futures data showing long and net positions at new records, and NYSE net margin debt at the highest level relative to market capitalization since at least 1980.

Amid all that, Goldman's advice is simply to prepare for a potential move, one way or the other.
"Consider using calls to maintain exposure to S&P 500 upside while limiting downside risk," the strategists say, adding that "investors who are already long cash equities could instead consider purchasing puts as protection."
Before it's here, it's on the Bloomberg Terminal.
LEARN MORE