business
Fed's 'Fear of God' Penalty Sours Wall Street on Wells Fargo
By
Downgrades cascade as analysts flag regulatory, growth issues

A few, like BofAML, worry less, see buying opportunity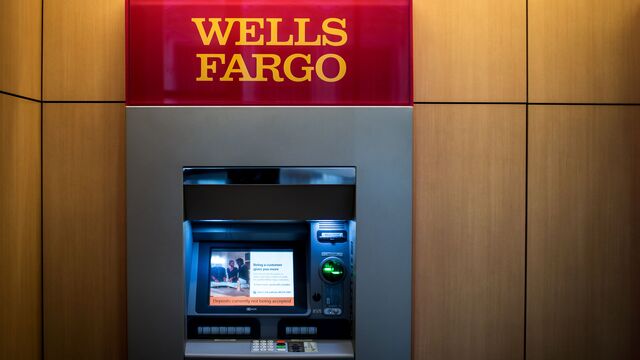 Analysts at firms including JPMorgan, Morgan Stanley and Citi are slashing their ratings on Wells Fargo after the Federal Reserve devised harsh new punishments in the wake of the bank's scandals. They're pointing to hits to growth, earnings, business opportunities and the potential for other painful regulatory action yet to come. At the same time, a few are unshaken, as they think Wells Fargo can handle the hit, and as the Fed's move may bolster broader regulatory relief efforts. Wells Fargo shares drop as much as 9.4 percent, the most intraday since August 2015, in early trading.
JPMorgan, Vivek Juneja
(Cuts to underweight from neutral, PT $67)
Harsh Fed consent order is "rare and a strong sign of regulators' frustration about the very wide swath of areas where Wells has had issues," including consumer deposits, consumer lending, small business banking, merchant acquiring
Net income knock may be bigger than simple loss from shrinking institutional deposits to accommodate planned loan growth; WFC may be less aggressive about growing investment banking/trading businesses; unclear whether may slow branch closings to avoid regulator concerns about cutting service in rural/underserved communities
Notes media reports WFC spent a lot of time negotiating terms; that raises question of whether Fed agreed to weaker terms so order would be signed before Janet Yellen retired; if WFC doesn't have such flexibility with other agencies, other settlements/orders may be more stringent

Notes other agencies (DOJ, state AGs, OCC, SEC, DOL, Small Business Administration) have investigations underway which may lead to additional restrictions
Citi, Keith Horowitz
(Cuts to neutral from buy, PT $65 from $70, removes from focus list)
"Fed doesn't pull any punches"
Consent order doesn't come as a surprise, but the asset cap and board changes do
WFC faces distractions including complying with the order, significant board turnover; makes organic growth challenging
Morgan Stanley, Betsy Graseck
(Cuts to underweight from overweight, PT $64 from $75)
Fed limits WFC just as lower taxes, deregulation offer strong year for large-cap banks
Constraints limit operating leverage, even though mgmt can maneuver, and Morgan Stanley sees EPS growth
Also concerned about implications for CCAR
RBC, Gerard Cassidy
(Cuts to underperform from outperform, PT to $50 from $65)
Notes cease and desist order is the most severe regulatory action against a bank; adding to that severity is requirement WFC's balance sheet can't grow

RBC is surprised considering how much money, time and effort WFC has already put into remedying sales practice issues that were disclosed in 2016

Investors will have difficulty determining when the C&D will be lifted, leaving cloud over stock price, earnings
RBC has very positive outlook for banking industry; investors would be better off owning other large bank stocks BAC, C, JPM, as they'll be able to harness the growth of the U.S. economy, while WFC will be "handcuffed"
KBW, Brian Kleinhanzl
(Cuts to market perform from outperform, PT to $63 from $70)
Major takeaway: WFC will have to be defensive until cease and desist order is lifted, hurting prior earnings forecast (which had reflected WFC being on the offensive)
WFC will probably have harder time maintaining market share, will have to compete more on price or credit terms vs peers, will have to maintain balance sheet while other banks are growing
Doesn't expect another regulatory shoe to drop, but there's increased uncertainty about when C&D will be resolved; KBW may look to get more constructive when earnings visibility improves, but sees that as at least a year away
Compass Point, Isaac Boltansky
Consent order is "a dramatic regulatory rebuke that will encumber Wells Fargo for the foreseeable future and should serve as a cautionary tale for the whole industry"
Surprisingly dramatic move that will have material impact on WFC and bank boards across the country
Likely to renew Congressional interest in WFC, especially if Democrats win the House and Rep. Maxine Waters takes House Financial Svcs Cmte gavel
Capital Alpha, Ian Katz
"The Fed just put the fear of God into bank boardrooms across the country"
Bank boards have "become more serious and less rubber-stampy" since financial crisis, but WFC scandals show "some boards still aren't vigilant enough"
Cowen, Jaret Seiberg
Fed's enforcement effort may create "political capital" it can use to justify regulatory relief for big banks and that Congress can use to enact legislation easing regulations
Since the Fed made its move on Janet Yellen's last day, Democrats offered little criticism for waiting so long; also positive for new Fed Chairman Jerome Powell, as he can start his tenure touting the action instead of answering questions about why Fed hasn't done anything about the fake account controversy
BofAML, Erika Najarian
(Buy, PT $69)
Sees any potential share weakness as "particularly attractive" buying opportunity; notes EPS cuts of 2%-3% are less than Friday's post-mkt decline of 6%
Understands apprehension about owning stock with regulatory/litigation risk, even if EPS power is "more or less intact"; flags WFC saying consent order didn't identify new issues since successful 2017 CCAR submission, built reserve by $3.3b in 4Q alone
It's "absolutely critical for management to more clearly and precisely outline its path to greater EPS power (on both revenues and expenses) and capital return" during May 10 Investor Day, which may be catalyst for shares
Bernstein, John McDonald
(Outperform, PT $69)
Consent order adds additional rev. pressure in 2018, but appears manageable, shouldn't impact 2019/2020 operating leverage story
Growth constrained, but defined timeline should limit risk; balance sheet flexibility preserves core growth by targeting reductions in non-relationship activities; notes WFC was already planning to run down non-core home equity, auto balances by ~$15b in 2018
As Bernstein had been modeling only 1% loan growth, no rev. growth in 2018, doesn't see change in WFC fundamental investment thesis, which is about capital return, 2019/2020 efficiency
Vertical Group, Richard Bove
(Buy, PT $68)
Senses "will have a big impact on the company in the press but a minor impact on the business"
Sees WFC as "bloated company that would benefit from pruning unattractive operations"; this agreement may speed transition; sees unlikely that WFC will cut key business activities or that customer base will be deterred from doing business with WFC over this
At the same time, overall position on bank stocks is cautious, wouldn't be aggressive buyer of WFC
Nomura Instinet, Bill Carcache
(Buy, PT $76)
Fed's order offers "healthy progress sign," as "unprecedented penalty may allow political pressure to ease"
Financial impact is manageable
Moody's, Allen Tischler
Increases risk of client attrition
But there are some silver linings, like improving capital ratios as asset size remains capped at 2017 levels while the bank builds capital through retained earnings
Expects profitability to be "satisfactory," assisted by lower tax rate and prospects of higher interest rates; recent enhancement of risk function should protect asset quality
Before it's here, it's on the Bloomberg Terminal.
LEARN MORE