Defiant Zuma Dares South Africa's Ruling Party to Fire Him
By and
Party's National Working Committee discusses Zuma's fate

ANC could bring a motion of no confidence in president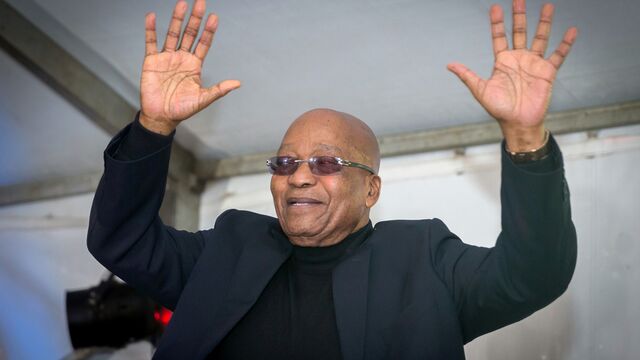 South African President Jacob Zuma is in a head-to-head struggle with the top leaders of his own party after he defied their call to step down.
Zuma, 75, refused to resign following an appeal by Cyril Ramaphosa, who replaced him as head of the African National Congress in December, and its other top five officials on Sunday night, according to five senior party members with knowledge of the meeting who spoke on condition of anonymity. Zuma, whose second and final term as president is due to end around mid-2019, is scheduled to deliver the annual state-of-the-nation address on Feb. 8.
"I think he knows he has to go. It's not winnable," said Ralph Mathekga, an independent political analyst based in Johannesburg. "I think he is going ahead with the state-of-the-nation address. Logistically it is becoming impossible to have someone else do it."

Zuma's response will be discussed on Monday at a meeting of the ANC's 26-member National Working Committee, which oversees the running of the party on a day-to-day basis and will decide how to proceed, ANC spokeswoman Khusela Diko said by phone.
The working committee could convene a special meeting of the ANC's National Executive Committee, which comprises 86 voting members and has the power to tell Zuma to go, or advise parliamentary Speaker Baleka Mbete to postpone the state-of-the-nation address, according to the officials. The party could also organize a caucus meeting in parliament to discuss ways to removing the president, such as bringing a no-confidence motion or supporting one from the opposition, they said.
Since taking the helm of Africa's most industrialized nation in May 2009, Zuma's tenure has been marred by a series of scandals, policy missteps and inappropriate appointments. Calls from within the party's ranks for him to resign or be fired have intensified since his term as ANC leader ended. The party faces an increasing risk of losing the electoral majority it has enjoyed since it took power under Nelson Mandela in the first multiracial elections in 1994.
Huge Pressure
"There is huge pressure on the ANC to rein in President Jacob Zuma once and for all to show that they are very serious about due process being followed and the fight against corruption," Sethulego Matebesi, a political analyst at the University of the Free State in the central city of Bloemfontein, said by phone. "It will be a numbers game. There is a huge possibility that President Zuma may not deliver the state-of-the-nation address."

The divisions Zuma's leadership has exposed within the ANC were evident outside the party's headquarters in Johannesburg on Monday, where the president's supporters and opponents staged rival protests amid a strong police presence.
"We are here to defend the state president," said Abi Letsoalo, an official with a group known as Black First Land First, which has backed Zuma's call for the government to be allowed to seize land without compensation. "Our message is clear: the president will be the president until his term of office has expired."
The rand was 0.6 percent stronger against the dollar at 12.0206 by 3:22 p.m. in Johannesburg on Monday. The currency is the best performer in the world since Ramaphosa was elected, with investors expecting that Zuma would be replaced early and that the new administration would do a better job of managing the economy.
No-Confidence Motion
Zuma has survived numerous efforts to remove him from office. Yet he faces the first no-confidence motion -- tabled by the opposition Economic Freedom Fighters -- in parliament on Feb. 22 without being head of his party.
While Zuma can't win the battle to see out his term, his exit is being mishandled by the party's top leaders, Mathekga said.
"They announce things in the public space that should be done in private," he said. "I think they have handled things in a way that has hardened President Zuma. Zuma feels a sense of injustice -- he feels betrayed."
— With assistance by Michael Cohen
Before it's here, it's on the Bloomberg Terminal.
LEARN MORE