Davis Says U.K. 'Very Clear' on Brexit, But Barnier Politely Disagrees
By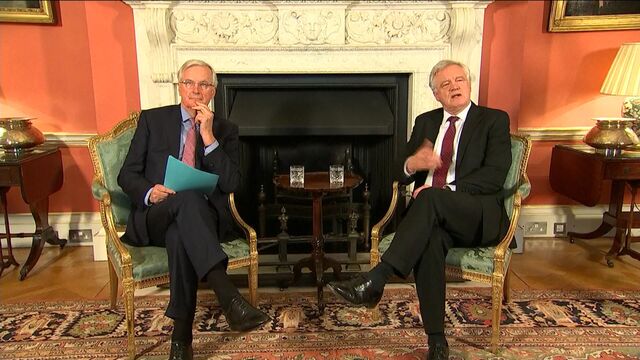 The chief Brexit negotiators met in London for the first time this year and while David Davis was at pains to say the U.K. was "very clear" on what it wants out of the talks, his adversary is calling his bluff.
"The time has come to make a choice," Michel Barnier said as he warned of "unavoidable" barriers to trade in goods and services if the U.K. leaves the customs union.
Prime Minister Theresa May is presiding over a divided Cabinet that hasn't made up its mind on what kind of tariff arrangements it wants after the U.K. leaves the European Union.
There has been much parsing of words with a meeting later this week of the so-called Brexit war cabinet -- some 10 senior ministers -- meant to shed some light on where the government stands on how it can reconcile leaving the customs union without losing the advantages of tariff-free trade.
"It's perfectly clear what we want to do and there's no doubt about it, as you said yourself -- we're leaving the customs union but we're aiming for a good future for Britain," Davis said in response to a question from ITV about whether the U.K. had any idea what it wanted.
The political chaos enveloping May has not been lost on Brussels. The premier dropped by to chat with Barnier for about 20 minutes. According to her spokesman James Slack, they agreed on the need to move quickly.
"I will not give a running commentary on the domestic and internal debate in the U.K.," Barnier said. "We will wait, on the European side, for an official U.K. position of the government, in the next few weeks."
Before it's here, it's on the Bloomberg Terminal.
LEARN MORE