business
CSX Track-Safety Work May Have Contributed to Amtrak Crash
By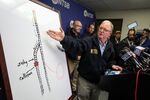 Signals that might have prevented a fatal train collision on Sunday weren't operating because the owners of track in South Carolina were installing a long-delayed safety system and had shut them off.
CSX Corp., which owns the section of rail where an Amtrak train collided with one of its freight trains, was adding a system known as Positive Train Control and had shut down its regular signals, Robert Sumwalt, chairman of the National Transportation Safety Board, said at a briefing Monday.
PTC, a long-delayed safety system that tracks trains and can automatically stop them before a collision, could have prevented the accident Sunday that injured more than 100 and killed two Amtrak employees, Sumwalt said earlier.
But CSX's attempt to install the system on that section of track may have contributed to Sunday's deadly accident, according to information released by Sumwalt. The normal signals -- which are similar to traffic lights -- that are designed to warn engineers of approaching danger were shut off during the time of the accident, he said.
Trains are still allowed to operate without such signals, Sumwalt said, if engineers get permission to operate from a railroad dispatcher. In such cases, dispatchers would communicate with the engineer over a radio.
The railroad declined to comment on the NTSB account, other than to say that it is cooperating with the investigation. Before the briefing, Bryan Tucker, a spokesman for CSX, said that the railroad was on schedule to meet the 2018 deadline for installation of PTC and to have the system fully operational by 2020.
In Sunday's accident, the Amtrak train was diverted from the main railroad track to a side area where a freight train had been parked. The switch connecting the main line to the side area hadn't been returned to its normal position after the freight train entered the area, according to the NTSB.
(
Updates with CSX declining to comment in seventh paragraph.
)
Before it's here, it's on the Bloomberg Terminal.
LEARN MORE