markets
Credit Traders Are Hedging Like Mad Amid the Stock-Market Plunge
By
Credit-default swap indexes see volume more than double

Default insurance for investment-grade bonds jumps 11 percent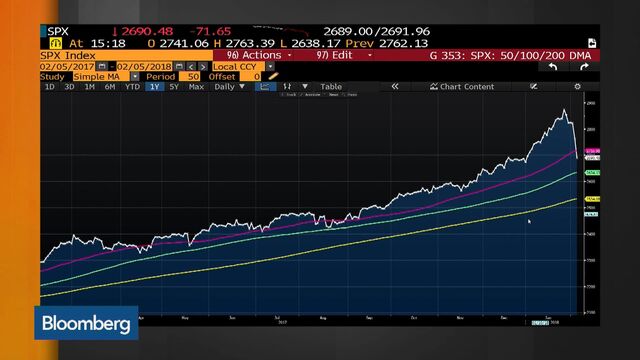 A measure of investors' fear for U.S. blue-chip corporate bonds surged the most in almost a year as dropping stock prices spurred investors to cut risk.
The spreads for protecting a basket of investment-grade company notes against default rose as much as 5.4 basis points on Monday to above 55, an 11 percent change that was the biggest since March 20, according to the Markit CDX North America Investment Grade index. As of 4 p.m. New York time, credit-default swaps referring to more than $50 billion of indexes had traded, including protection on investment-grade U.S. corporate debt and European high-yield debt. That level was around 2.5 times typical daily volume for Mondays.
The move to insure debt comes as investors across markets grow increasingly concerned about the potential for rising U.S. wages to spur inflation and more Federal Reserve rate hikes. Investment-grade and high-yield credit derivative indexes saw trading volume soar past 300 percent of average trading volume for Mondays, according to data compiled by Bloomberg.

In the Asia ex-Japan region, the cost of insuring government and corporate bonds against default in rose by about 4 basis points to 72 basis points on Tuesday in early trading, according to credit-default swap traders. It would be the biggest increase since Sept. 20, based on the Markit iTraxx Asia index of credit-default swaps.
The spreads for protecting a basket of high-yield debt against default in the U.S. rose 14 basis points to around 335 basis points, or about $335,000 for every $10 million of debt protected, Bloomberg data show. That's the highest since mid-November.
The yield on the 10-year Treasury note increased 1 basis point to 2.72 percent as of 9.36 a.m. in Hong Kong on Tuesday. It was as high as 2.88 percent on Monday, the most since January 2014. S&P futures were little changed, after the S&P 500 fell 4.1 percent Monday to 2,648.94, its lowest level since December.
— With assistance by Finbarr Flynn, David Yong, and Lianting Tu
(
Adds move in Asia CDS in fourth paragraph, updates Treasuries, adds S&P futures in sixth paragraph.
)
Before it's here, it's on the Bloomberg Terminal.
LEARN MORE