Cape Town Pushes Out Estimated Water Supply Cut-Off Date to May
By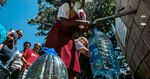 Cape Town, the South African city contending with the worst drought on record, has pushed out the estimated date on which it may have to turn off water supplies to residents by more than four weeks to May 11, as use by farmers declines.
Farmers draw about 30 percent of water supplies serving Cape Town, a figure that's estimated to drop to about 15 percent in March and 10 percent in April, the city said in a statement Monday. "Day Zero," when most taps could be turned off and residents required to queue for a daily ration of 25 liters (6.6 gallons) each, was last week projected at April 16.
Cape Town residents have failed to reduce urban water consumption significantly and must continue to use no more than 50 liters each a day to stretch dwindling supplies, deputy Mayor Ian Neilson said in the statement. Dams supplying the city are an average of 25.5 percent full, compared with 26.3 percent a week earlier. Residents are using 547 million liters a day, above authorities' target of 450 million liters.
— With assistance by Michael Cohen
Before it's here, it's on the Bloomberg Terminal.
LEARN MORE