markets
Bulls Go Missing as Global Equities Buckle From U.S to Japan
By
Asian equities head for steepest two-day drop since 2016

Equity volatility rises, while currencies trade mixed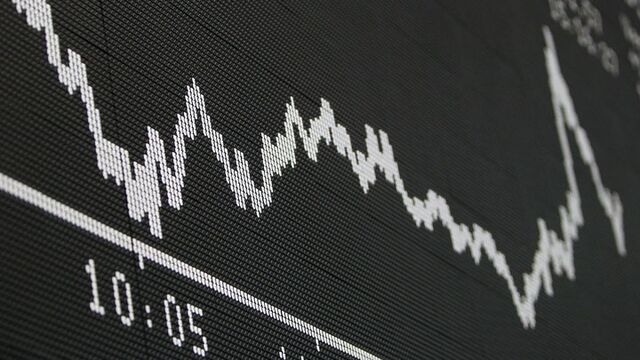 Dip buyers were few and far between in a selloff that started with U.S. bonds and has spread across international markets.
The MSCI Asia Pacific Index dropped 1.5 percent on Monday, heading for its steepest two-day decline since November 2016, as shares in Japan, Hong Kong and Taiwan sank. Gauges of volatility spiked throughout the region, while most currencies weakened for a second day. Futures signaled a sea of red for Europe, though contracts on the S&P 500 Index staged something of a comeback, narrowing their drop to 0.1 percent as of 7:17 a.m. in London.

Market jitters abound, with bulls taking a back seat after one of the best starts to a year for global equities. While many saw it coming, the sell-everything mindset has taken market watchers by surprise.
"The recent jump in bond yields has finally broken the preternatural calm in equity markets, indicating a clear change in tone," Patrik Schowitz, global multi-asset strategist at JPMorgan Asset Management, wrote in a note. "Investors had become complacent in the low volatility regime."
Still, some strategists are taking comfort in evidence that economic growth remains resilient and corporate earnings are improving around the world. Below is a wrap of views of how the rout looks from Asia.
Buying Window
"It's a good time for those that have been in the market since last year to capitalize on some of their gains," said Jonathan Ravelas, chief market strategist at BDO Unibank Inc. "For those who missed on the rally and are in for the long haul, this selloff is a good buying window, considering global fundamentals haven't changed."
"The slump in stocks today wasn't caused by fundamentals," KGI Securities Investment Advisory Co. President Chu Yen-min said by phone. "It was the spike in yield, spurring concerns over inflation, and rising interest rates. It's not a turnaround, but a short-term correction. The stock markets, Asian and Taiwan alike, should be on the upward trend in the first half, though in volatile trading."
China's mainland investors made the most of the slump in Hong Kong, buying more than $1 billion of the city's shares with about an hour of trading to go.
Growth Is Still Good
"There doesn't seem to be anything out there that says the global recovery is about to crater," Nicholas Smith, a strategist at CLSA Ltd. in Tokyo, said by phone. "The biggest worry is that the Japanese market is so highly correlated to the U.S. If you think about it in terms of earnings yield minus bond yield, then Japan is absolutely dirt cheap."
"We see the selloff as a correction for now because corporate earnings and economic outlooks remain positive," said Hao Hong, Hong Kong-based chief strategist at Bocom International Holdings Co. "Investors who have priced in earnings growth without pricing in inflationary pressure are waking up."
Watch the Dollar
"It's worrisome," said Louis Tse, VC Brokerage Ltd. managing director in Hong Kong. "The rate hike in March is a done deal and if the U.S. dollar turns stronger, funds will flow out of" markets in Asia.
"As long as the U.S. dollar is not regaining the strong momentum that we had in 2014 and 2015, then the fundamentals are still very good in Asia," said Frank Benzimra, head of Asia equity strategy at Societe Generale SA. He recommends investors stick to stocks in mainland China, which don't tend to follow U.S. markets.
— With assistance by Ian C Sayson, Livia Yap, Amanda Wang, Fox Hu, and Moxy Ying
(
Updates with European trading in second paragraph, China flows in eighth.
)
Before it's here, it's on the Bloomberg Terminal.
LEARN MORE