Brexit Bulletin: Advantage Brexiteers
By
U.K. official makes late Sunday statement on customs union

Ministers to debate future U.K.-EU relationship this week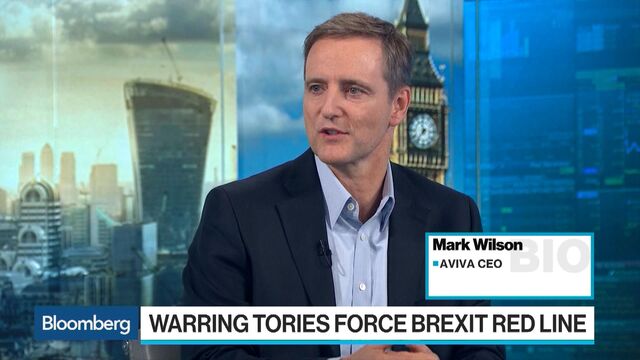 Sign up to receive the Brexit Bulletin in your inbox, and follow @Brexit on Twitter.
Theresa May, under fire from euroskeptics who suspect her of going soft on Brexit, ruled out a customs union with the European Union late on Sunday as she heads into a week of key decisions over what the divorce will look like.
After a Sunday Times report of a plot to oust her, a government official briefed reporters that May has ruled out staying in the current customs union and it's not "government policy" to stay in "a" customs union either. Last week she was still "open-minded," amid reports her officials were plotting a new type of arrangement.

Customs arrangements, while technical, lie at the heart of the latest conflict. A customs union imposes a common external tariff on goods coming into the EU, and therefore stops members striking their own deals with other countries. Business wants the U.K. to remain inside one after Brexit, as do some ministers and outspoken Conservative lawmakers. It's an option that would help solve the intractable problem of what happens to the Irish border after Brexit. May has promised Ireland and the EU there will no hard border, and breaking that promise isn't an option if she wants an orderly exit.
Chief EU negotiator Michel Barnier is in London on Monday to meet Brexit Secretary David Davis and he's expecting an "update" on Friday from the U.K. about what it wants the future relationship to look like. That will ratchet up pressure on ministers to decide on a common stance when they meet to discuss it on Wednesday and Thursday.
May has held onto her job at least in part by avoiding too much clarity, and still hasn't stamped her authority or a vision of Brexit on her divided Cabinet. Both extremes of her party's Brexit spectrum have been emboldened, with those seeking the most radical break from Brussels making threats, demanding firings, and questioning the integrity of the country's revered civil service. 
The parliamentary arithmetic probably supports a divorce that maintains more ties to the EU (and the anti-Brexit crowd is getting more organized). But May knows she has to listen to the pro-Brexit hardliners, as she showed last week when failing to admonish Brexit Minister Steve Baker for slurring civil servants in Parliament.
As arch-Brexiter Jacob Rees-Mogg emerges as a potential leadership rival, it's worth remembering what he stands for. Edwardian eloquence aside, he is advocating leaving the bloc without the transition deal that businesses are calling for. He also doesn't think the U.K. should pay any exit settlement to the EU.
Potential leader or not, at the very least, he's a power broker supported by dozens of lawmakers.
The anti-EU camp see the ability for Britain to strike trade deals around the world and recover its role as a pioneering free-trading nation as one of the key planks of their platform. Rees-Mogg has made his opposition to any kind of customs deals quite clear, saying the lawmakers in his group would not support May if she pursues such a policy. Foreign Secretary Boris Johnson is expected to make his opposition clear this week.
As time runs out and the EU expects to hear what kind of trade deal Britain wants, the stark choices of Brexit have tipped the Conservative Party into open warfare.
It's not clear the prime minister will survive the crossfire.
Brexit Latest
Work for Boris? | Home Secretary Amber Rudd was interviewed by the BBC's Andrew Marr on Sunday. She said the Cabinet was more united than people thought over the future relationship. But the best nugget was the question she refused to answer. Could she ever image serving under Boris Johnson? Her answer: "That is such a difficult question on so many different levels, I'm going to pass." 
Remainers Fight Back | A group of pro-European lawmakers have tabled an amendment that would force May to remain in the customs union after Brexit. Former Chancellor of the Exchequer Ken Clarke and former Business Minister Anna Soubry,  Conservatives with a track record of rebelling against the government, are backed by Labour lawmakers including Chuka Umunna and Chris Leslie. Tim Bale, a professor of politics at Queen Mary University of London reckons they stand a chance: "If you look at the maths, the number of Tory mutineers and then you add some, if they're able to get their act together with Labour, then mathematically there's a majority for this."
Northern Finance Boom | U.K. exports of financial and related professional services grew to a record in 2016 as all regions surged. Exports rose 15.8 percent to £95.7 billion ($136 billion), according new data compiled by TheCityUK with the Office for National Statistics. The northeast of England posted the biggest jump, climbing 29 percent, while London – which accounts for almost half of the nation's financial services – rose 17 percent.
May's Plan | Downing Street is hatching a plot to try to divide leading Brexit backers Foreign Secretary Boris Johnson and Environment Secretary Michael Gove with a compromise on the customs union, the Times reports. The compromise would see the U.K. sign up to a time-limited extension of parts of the customs union, the paper says. It's hard to see how Brussels wouldn't see this as more cherry-picking.
On the Markets | Pound bulls may need Bank of England Governor Mark Carney to bring an interest-rate increase in May into play this week to drive further appreciation in the currency, John Ainger writes. Sterling posted its first weekly decline against the dollar since mid-December, weighed by lower-than-forecast U.K. data and renewed scrutiny on May's future.

And Finally...
While Britain is trying to get out, Bulgaria is trying to get deeper in. It's not being welcomed quite as warmly as it had hoped, Jonathan Stearns and Viktoria Dendrinou report.
Bulgaria aims to join the euro area as well as Schengen, the EU's passport-free travel zone, and meets the criteria to advance on both fronts. But in each case, reservations in some richer EU countries are slowing the process.
Germany, still smarting after 10 years fighting the Greece-triggered debt crisis, is helping apply the brake to Bulgaria's euro aspirations. The Netherlands, home of a strong anti-immigration party, and France, which has suffered high-profile terrorist attacks in recent years, are among the EU countries acting as a check on any Schengen enlargement.

For more on Brexit follow Bloomberg on Twitter, Facebook and Instagram
Before it's here, it's on the Bloomberg Terminal.
LEARN MORE