BlackRock Emerges as Biggest Buyer in Turkey's First IPO of 2018
By
Enerjisa Enerji prices share sale at bottom end of range

Power producer valued at almost $400 million as demand surges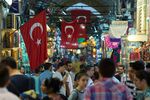 BlackRock Inc. is the top investor in the first of what could be a bumper year for Turkish initial public offerings.
The world's biggest asset manager bought more stock than any other investor in Istanbul-based Enerjisa Enerji AS as Turkey's largest electricity distributor priced its offering at the bottom end of its expected range, the manager of the share sale said in a statement. Bids received for the IPO were almost five times more than the shares on offer, with 60 international and 233 domestic institutional investors participating, it said.
Boston-based money manager Fidelity Investments and Moon Capital Management LLP also took part in the offering, according to Ak Investment. It didn't name the other international investors in Enerjisa, which is equally owned by Essen, Germany-based E.ON SE and Haci Omer Sabanci Holding AS, which sold 20 percent of its stake in the offering,
Turkish companies are weighing IPOs in what could be the best year ever for share sales. About a dozen initial public offerings are in the works that could raise $3 billion to $4 billion in 2018, according to Istanbul-based brokerages Unlu & Co. and Is Investment, surpassing the record set in 2007. Companies are betting that a surge in demand for emerging-market equities will engulf Turkey too.
Click here to read of IPOs planned in Turkey this year
The sale will raise 1.48 billion liras ($393 million) for the company's owners after setting the price at 6.25 liras per share compared with an earlier range of 6.25 liras to 7.5 liras, and valuing Enerjisa at 7.38 billion liras, E.ON said in a statement. Enerjisa will start trading on Borsa Istanbul on Thursday.
Enerjisa, which the two main shareholders split off from their power generation business last year, operates power grids in Istanbul's Asian side, Ankara and Adana regions, serving around a quarter of Turkey's 80 million people with a 26 percent share in the country's power distribution market.
Before it's here, it's on the Bloomberg Terminal.
LEARN MORE