Berlusconi's Euro Flip-Flops Drive Renzi Campaign Push in Italy
By
Media billionaire has been ambivalent about euro in the past

Ex-premier Renzi struggling to revive ruling Democratic Party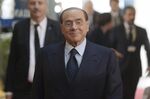 Former Prime Minister Matteo Renzi lumped Silvio Berlusconi in with the euroskeptic populists of the Five Star Movement as he tried to turn around his struggling campaign for Italy's March 4 election.
With his governing Democratic Party slipping in opinion polls and 81-year-old Berlusconi's center-right coalition moving closer to an outright majority, Renzi on Monday dredged up his rival's patchy record on the single currency and his alliance with hardliners in a pitch to mainstream voters.

"The battle between us and the center-right will be between those who have steered a straight course these last few years, and those who talk of tariffs and leaving the euro," Renzi, 43, said as he presented the candidates for his party list at the Eliseo Theater in central Rome.
Renzi's efforts to reclaim the premiership he resigned in 2016 are struggling for traction compared with the Internet-savvy newcomers of the Five Star Movement and the charismatic media mogul Berlusconi, who's allied with the anti-migrant Northern League.
Berlusconi's Chances
The center-right coalition is the biggest bloc with about 37 percent support in the runup to the election, according to surveys. Five Star is the leading single party, credited with some 28 percent of voting intentions, ahead of the Democratic Party at about 23 percent. While most forecasters have been predicting a hung parliament, Berlusconi's team says he could achieve a working majority if he can get more than 40 percent.

Berlusconi, who is banned from public office for a tax-fraud conviction but could play the kingmaker in the choice of premier, and League leader Matteo Salvini have clashed over both tariffs and the euro. Berlusconi himself has been ambivalent about the euro, suggesting in the past that the lira should be re-introduced as a parallel currency.
Salvini said last month he wanted to impose tariffs like U.S. President Donald Trump who "defends American industry, he wants to save jobs." Berlusconi argues Trump's "new protectionism isn't a good idea, not even for the U.S." Salvini has said quitting the euro is an option, which Berlusconi has rejected.
68-Year-Old Rookie
Ministers who served both Renzi and his successor as premier, Paolo Gentiloni, 63, packed the front rows at Monday's event near the Bank of Italy as Renzi claimed credit for Italy's economic recovery.
"When someone says they can't see the economic improvement, it's often bad faith but sometimes there are problems like inequality, youth unemployment and the unemployment of women," Finance Minister Pier Carlo Padoan said at the event. Padoan, 68, a former director of the International Monetary Fund for Italy, admitted he was "a bit moved" at the idea of running in his first election campaign.
Padoan dismissed rival political forces as either "demolition men" who wanted to destroy government reforms of the pensions system and the labor market. They act like "fairies with a magic wand," he went on, who ignored the impact of a flat tax -- a Berlusconi proposal -- which "would just mean inequality, and problems with public finances."
Gentiloni himself, who has emerged as a possible premier after the vote instead of Renzi, was absent. Renzi said the prime minister was busy receiving a head of state -- Turkish President Recep Tayyip Erdogan.
Before it's here, it's on the Bloomberg Terminal.
LEARN MORE