Panetta Warns U.S. Rule of Law at Risk From Trump-FBI Tensions
By
Former CIA directors address Trump approving release of memo

Brennan calls Republican action that ignores norms 'reckless'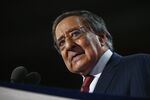 Tension between President Donald Trump and the FBI over the release of a disputed memo -- prepared by House Republicans and alleging bias in the investigation of Russian meddling in the 2016 election -- risks harming the rule of law in the U.S., said former CIA Director Leon Panetta.
"For our democracy to function, you have to have a relationship of trust between the president and those who are responsible for enforcing the law, the Justice Department and the FBI," Panetta said on "Fox News Sunday." "And If that trust breaks down, then I think it does undermine the rule of law in this country, and that in effect creates a crisis."
Panetta, a Democrat, led the CIA and later the Department of Defense under President Barack Obama and was also a former chief of staff to President Bill Clinton after serving in Congress.
Trump cast aside warnings by the FBI by giving Republicans on the House Intelligence Committee the go-ahead to release the disputed memo, which claims that the FBI and Justice Department misled a surveillance court judge to obtain a warrant to spy on a former Trump campaign aide.
FBI Director Christopher Wray urged Trump not to release the memo, according to a person familiar with that matter. The FBI issued a statement Feb. 1 saying the document contained "material omissions of fact."
'Trump' Vindicated
The president tweeted on Saturday that the memo "totally vindicates 'Trump"' in the ongoing Russia probe, calling the investigation by Special Counsel Robert Mueller a "Witch Hunt" and "an American disgrace!" On Friday, Trump tweeted that top leadership and investigators at the FBI and the Justice Department had "politicized the sacred investigative process in favor of Democrats."
Panetta expressed concern about the partisanship within the House Intelligence Committee over handling of the memo, saying it damaged the panel's ability to provide proper oversight of sensitive intelligence and the agencies that gather it.
"When intelligence starts to be used on a partisan basis to score political points, I think that really undermines the way the intelligence committee is supposed to function," said Panetta, 79. "It's going to hurt our ability to be able to have the kind of oversight we need in our democracy."
John Brennan, Obama's third CIA director, said on NBC's "Meet the Press" on Sunday that he's "appalled" by what the president and other Republicans are saying about FBI and intelligence officers. He said he had fights with Democrats over the years, but can't defend the memo and its release.
"I never, ever saw the Democrats do something like this that was so partisan, so reckless and really just laid waste to the protocols that governed committees," Brennan said on NBC's "Meet the Press" on Sunday.
Before it's here, it's on the Bloomberg Terminal.
LEARN MORE