A $19 Billion Investor Says MiFID II Hasn't Helped Transparency
By , , and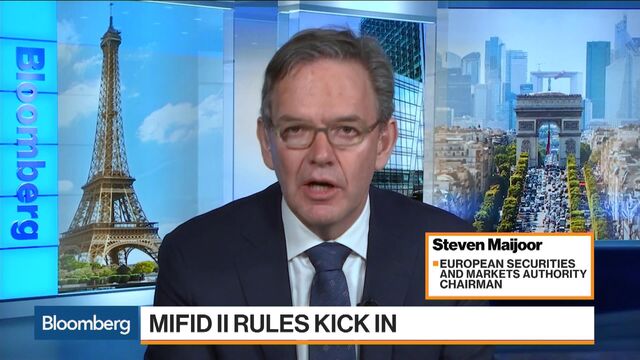 The head of fixed income at Nykredit Asset Management is wondering what happened to the nice, transparent mortgage-bond market in which he's a veteran investor.
Since Europe rolled out a revision to its Markets in Financial Instruments Directive last month, a single go-to venue for bond prices has been replaced by a more fragmented setup, according to Henrik Jorgensen, who oversees about $19 billion from his Nykredit office in Copenhagen.
"Historically, transparency has been extremely good in the Danish mortgage market because all trades were reported to Nasdaq OMX," Jorgensen said in an interview. But now, "it seems like not all the data is coming to the Nasdaq OMX as it did before." And that means "transparency is more muddy compared to before," he said.
Early Compliance
Nasdaq says there's been no change to the content. "In Denmark, the bond market has actually been pre-MiFID II compliant since Denmark decided with MiFID I to have OTC reporting for bonds as well as equities," spokesman Javier Lopez Garrido said by email. "So MiFID II for Danish bonds merely affects how trades are published, the information is the same as before."
But Jorgensen says "currently, it seems like the data isn't coming."
The comments suggest that Europe's historic effort to improve market transparency for investors is having some unintended consequences. Buyers and sellers in Denmark's $440 billion mortgage-backed covered bond market had previously only needed to refer to Nasdaq OMX for prices.
But with MiFID came competing platforms, and aggregating the data across those platforms so investors can get a complete picture of the market is proving harder than expected.
Anders Balling, head of the capital markets division at the Danish Financial Supervisory Authority, says any glitches are essentially teething issues that will ultimately be overcome.
"The changes that came with MiFID II are quite far-reaching and that also means that there are quite a lot of issues that have to be dealt with, not least with the IT systems that report to us and also the ones that make transactions public," he said by phone.
Technical Glitches
Jorgensen says part of the issue is that "today you can report to whatever exchange you want, even for the Danish traders. They could report to Deutsche Boerse or some other venue." (Bloomberg L.P. is among companies providing platforms to aid with MiFID II reporting requirements.)
With MiFID II only one month old, Jorgensen says he's aware part of the issue can be put down to "some technical stuff. I expect it in some months, one or two months, that it will be in place so we can see the same information as we did before."
But for now, the impression left is that transparency has taken a hit. "The old rules are actually better than the new rules," Jorgensen said. "It's a bit funny for the Danish market that we introduce some new rules where the transparency is actually worse compared to what we had in the old days."
And in Norway...
Denmark isn't the only Nordic country where the transparency promised by MiFID II evangelists isn't yet apparent. Norway is also seeing some setbacks.
Since the directive took effect on Jan. 3, fixed-income traders have been free to report transactions on any platform of choice, moving away from a system where all trades were registered by the Oslo Stock Exchange.
"MiFID II has currently contributed to less transparency," said Magnus Vie Sundal, credit strategist at DNB, Norway's biggest bank. Data is more fragmented and spread over several channels, he said.
Transparency Drive Backfires for MiFID II in Norway Bond Market
Vie Sundal also acknowledges the issue could be one of growing pains. The Norwegian Securities Dealers Association says the kinks will be worked out eventually.
Before it's here, it's on the Bloomberg Terminal.
LEARN MORE