technology
'Winchester' Is Lone New Movie to Take on Super Bowl Weekend
By
The horror film stars Helen Mirren as haunted firearms heiress

Sony's 'Jumanji: Welcome to the Jungle' returns to No. 1 spot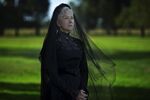 Hollywood hit the pause button for Super Bowl weekend, with theaters offering just one new movie in wide release -- the horror film "Winchester" featuring Oscar winner Helen Mirren.
From Lions Gate Entertainment Corp. and CBS Films, "Winchester" opened with sales of $9.31 million in North America to place third, researcher ComScore Inc. said Monday. Sony Corp.'s "Jumanji: Welcome to the Jungle" returned to the No. 1 spot with revenue of $10.9 million, an extraordinary feat for a film that's been out since Dec. 20. Placing second was 21st Century Fox Inc.'s "Maze Runner: The Death Cure," with $10.5 million in sales.

Super Bowl weekend has never been a good time to open a movie. The most successful debut since researcher Box Office Mojo's records began in 1982 was the 2008 "Best of Both Worlds Concert Tour" featuring Miley Cyrus as Hannah Montana. But "Jumanji" continues to draw crowds and success for Sony, now in second place this year for domestic market share.
The PG-13 "Winchester" features Mirren as the heiress to a firearms fortune who believes she is haunted by the ghosts of people who were killed by the Winchester repeating rifle. A horror story unfolds in the Winchester Mystery House, a real labyrinthine mansion built by the real Sarah Winchester in San Jose, California.

The movie was forecast to generate $8.5 million on its debut, according to analysts at Box Office Pro. The film got just 12 percent positive reviews at RottenTomatoes.com, which tracks critics' comments.
With the weekend's take, Jumanji has now collected $352.6 million in domestic theaters and is the top-grossing film to run in theaters this year. Globally revenue totals $856 million.

(
Updates with final weekend sales.
)
Before it's here, it's on the Bloomberg Terminal.
LEARN MORE