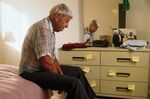 General Electric Co.'s shocking news -- billions of dollars in unexpected charges and a regulatory investigation of accounting practices -- can largely be traced to one product: long-term care insurance. The size of the charge raises questions not just about GE's accounting but also about the stability of an industry that seems perpetually plagued.
1. What is long-term care insurance?
Just like it sounds, it's an insurance policy that covers nursing-home, home-health and other costs not paid by Medicare or standard health insurance. It's a relatively new product, having emerged only in the 1960s. It gained popularity in the 1980s as baby boomers realized their long-term care expenses could easily exhaust their retirement savings. In the U.S., long-term care costs exceeded $225 billion in 2016, up from $30 billion in 1980. About 8 million people in the U.S. have insurance with a long-term care option, according to the American Association for Long-Term Care Insurance.
2. What happened at GE?
GE stopped selling long-term care policies in 2006, after spinning off its insurance unit, Genworth Financial Inc. To make a Genworth stock offering more attractive, GE's former chief executive officer, Jeffrey Immelt, had agreed to keep the financial risk of some policies on GE's balance sheet. Among those retained, the long-term care policies were the main cause of the surprising $6.2 billion charge in the fourth quarter of 2017.
3. What happened at Genworth?
A decade after the 2004 spinoff, Genworth had to add to its reserves for claims after incurring losses in its long-term care business. Low interest rates and higher life expectancy were making the insurance more costly to carry for all insurers, but the problem was especially bad at Genworth, whose rating was cut to junk by S&P Global Ratings Inc. CEO Tom McInerney in 2016 agreed to sell Genworth to China Oceanwide Holdings Group Co., which he said was its "best option." Genworth's shares have since slumped amid doubts that the deal will win regulatory approval.
4. Are other insurers having similar problems?
Yes, low interest rates, high medical costs and increased life expectancy are industrywide challenges. These factors led to the demise of one company, Penn Treaty, last year. Insurers have been tweaking their assumptions for these policies -- how long people would live, how financial markets would act, how much health-care costs would rise -- for years. Larger insurers, including Prudential Financial Inc. and MetLife Inc., have stopped selling long-term care policies and some have asked regulators to approve price increases on existing policies.
5. What did GE do?

After seeing elevated claims last year, GE reviewed its assumptions and found the shortfall. Executives said a significant cause of the need to add to reserves is tied to a "younger" book of business with policyholders just starting to turn 80 -- the prime age when customers start making claims. That may explain why GE reviewed its book of business, and added to reserves, later than other insurers did. The update will require GE to set aside about $15 billion for those policies over seven years.
6. Should I be worried if I have a long-term care policy?
There's reason to be concerned. Insurers are on the hook to pay promised benefits, but many have sought regulatory approval to raise prices on older contracts, which can make it hard for some customers to keep paying premiums. If premiums aren't paid, the policy lapses and the insurer doesn't have to cover any claims. Even federal employees have been hit: Manulife Financial Corp.'s John Hancock, which provides coverage to federal workers and retirees, has sought price increases.
7. What if my insurer goes under?
If that happens, state guaranty associations step in. All insurers are required to belong to these associations and to kick in funds to cover the policyholders of insolvent insurers. That's what happened with Penn Treaty, which was put into liquidation last year. But a cap on how much state associations must pay means that some customers could be getting less than expected.
8. Who sells this insurance?

Some employers offer group long-term care policies but most are purchased by individuals through insurance agents or brokers. Only about 15 companies, down from 20 in 2010, sell standalone long-term care policies today, with MassMutual and Mutual of Omaha among them, according to a 2016 National Association of Insurance Commissioners report. Other companies offer mixed policies, such as life insurance with some long-term care benefits.
9. Why are these policies so costly?
One reason is that the median cost of a private room in a nursing home is $267 a day, according to a study by Genworth. The rate rose 5.5 percent from 2016 to 2017. Premiums vary by the customer's age at purchase, but on average one would have paid about $2,772 a year in 2015. That's up from about $1,071 in 1990, according to the National Association of Insurance Commissioners.
The Reference Shelf

Before it's here, it's on the Bloomberg Terminal.
LEARN MORE