hyperdrive
Meet the Judge in the Waymo-Uber Case
By
William Alsup hands out cough drops; guards jurors' privacy

Jurist also has jailed uncooperative witnesses for months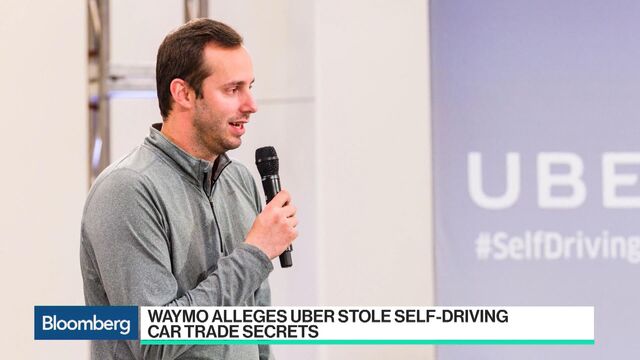 Judge William Alsup arrived on the bench in San Francisco federal court almost 20 years ago and has handled a fair share of high-profile cases, including one in which a jailed executive was accused of trying to have him killed.
Born in Mississippi in 1945 and schooled at Harvard in law and political science, Alsup served as a clerk to U.S. Supreme Court Justice William O. Douglas, worked a couple of stints at the U.S. Justice Department and spent about a decade in private practice with Morrison & Foerster LLP, one of the firms representing Uber Technologies Inc. in its trade-secrets fight with Waymo. Alsup was appointed judge for the Northern District of California in 1999 by President Bill Clinton.

In the courtroom, he's down-to-business. For trials, Alsup makes attorneys show up at 7:30 a.m., ready for argument. He keeps a bag of cough drops at his bench, dispensing them to lawyers or jurors at the slightest sign of a cold. At the outset of jury selection Wednesday in the Waymo-Uber case, he immediately dismissed two prospective panelists out of fear they might make others ill. "Who else is a hacker, cougher, has the flu, maybe has the flu?" he asked after the two left his courtroom.
Over the years Alsup has taken some extraordinary measures to keep everyone in line -- barring lawyers from prying into jurors' private lives, jailing uncooperative witnesses, referring civil cases to criminal prosecutors and even ordering a convicted executive to stay off his yacht.
Stopping Google from Googling Jurors
Alsup isn't shy about his belief that lawyers shouldn't be digging into the private lives of citizens called to serve on juries. To that end, he coaxed Google -- the mother of all search engine firms -- to refrain from Googling the social media footprints of prospective jurors while defending itself in a $9 billion copyright trial with Oracle Corp. in 2016. To even the playing field, Alsup got Oracle to sign the same pledge. Both sides were deprived of potential tidbits of information from Facebook, LinkedIn, Instagram and Twitter that might give them insights into a particular juror's biases. As an incentive for their cooperation, Alsup offered the lawyers for both sides more time for their question-and-answer screening of jurors in court. The judge got Waymo and Uber to agree to the same ground rules for their trial.
Alleged Plot to Make Alsup 'Disappear'
Alsup's decision in May to refer the civil lawsuit in the Waymo-Uber trade secret dispute to U.S. prosecutors for a possible criminal investigation was unusual, but not unique in his career. While presiding over a patent case in his first year as a judge, Alsup found that the chief executive officer of a Silicon Valley company had fabricated evidence and referred the case to the U.S. attorney's office. While Aptix's Amr Mohsen was in jail facing trial on perjury and obstruction of justice charges in 2003, he allegedly attempted to solicit the murder of Alsup, telling an informant he wanted the judge to "disappear." The ex-executive was ultimately acquitted of the murder plot, but found guilty on 17 other counts and sentenced to 17 years in prison.
Ex-Chairman Ordered to Stay Off His Boat
How's a judge to react upon learning that a Fortune 100 company chairman, convicted in his court for taking part in an $8.6 billion investor fraud, wasn't forthcoming about an arrest for soliciting a prostitute? That was the conundrum facing Alsup in 2009 when he had to decide whether to revoke bail for Charles McCall before he sentenced the former chairman of McKesson Corp. to 10 years in prison for a scheme to inflate revenue at the medical supply giant. The prostitution solicitation charge was dropped, but prosecutors said McCall had incentive to flee before his sentencing and that his failure to disclose the incident to court personnel raised concern that he couldn't be trusted. "It's troubling that the defendant had this encounter on the street with the vice squad," Alsup said in court. The judge said he had to "weigh that against a long record of complete fidelity of making court appearances, and that counts for something." Ultimately, Alsup allowed him to remain free until sentencing. But the judge ordered McCall not to leave Palm Beach County, Florida, where he lived at the time, and not to use his 41-foot motor boat.
Jailing Witnesses Who Don't Cooperate
It's rare for witnesses to be jailed, but Alsup has incarcerated at least two men who refused to cooperate with criminal investigations. In 2006, he ordered the trainer for baseball legend Barry Bonds to be jailed, not once but twice, for refusing to testify before a federal grand jury probing the use of steroids in professional sports. Greg Anderson spent a total of more than a year in jail for contempt of court before he was finally released in 2007 after Bonds was indicted on perjury and obstruction of justice charges. The same year he had Anderson locked up, Alsup was responsible for what was called the longest incarceration ever of an American journalist, also for contempt of court. San Francisco videographer and blogger Josh Wolf spent eight months behind bars before he finally turned over a videotape of a violent anti-capitalist protest to federal authorities.
— With assistance by Joel Rosenblatt
(
Adds detail on dismissal of McCall solicitation charge.
)
Before it's here, it's on the Bloomberg Terminal.
LEARN MORE