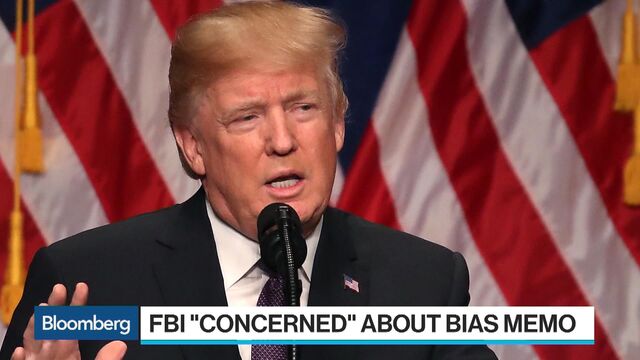 Want to receive this post in your inbox every morning? Sign up for the Balance of Power newsletter, and follow Bloomberg Politics on Twitter and Facebook for more.
Donald Trump is upping the ante in the high-stakes partisan warfare over Special Counsel Robert Mueller's investigation of his administration and the 2016 campaign's ties to Russia.
The U.S. president has approved publication of a Republican memo arguing the Federal Bureau of Investigation abused its surveillance powers in its Russia probe. Republicans say the memo, which could be unveiled today, describes anti-Trump bias at the FBI — a claim the president himself has repeatedly made.
Democrats have condemned the document as a misleading and inaccurate attempt to undermine Mueller's investigation at the cost of damaging the nation's intelligence and law-enforcement agencies. And FBI Director Christopher Wray is said to have urged Trump not to release it.
As Washington waits on tenterhooks, former FBI chief James Comey issued a scathing statement on Twitter that appeared to criticize plans to release the memo. Comey, whose firing by Trump last year spurred Mueller's appointment, urged Americans to "take heart." U.S. history, he said, "shows that, in the long run, weasels and liars never hold the field, so long as good people stand up."

Global Headlines
Tillerson flying solo | As U.S. Secretary of State Rex Tillerson starts his Latin American trip to seek a unified stance on isolating Venezuelan President Nicolas Maduro, he'll again face the problem that's plagued his efforts to manage crises in places like North Korea, Syria, and Iran — he's largely alone. Once Tom Shannon's resignation, announced yesterday, is completed, seven of the State Department's top nine positions will be empty.

Friendly fire risk | The U.S. and Turkey say they are in close communication over the Turkish army's intervention in Syria, but there are few signs the talking has eliminated the danger of a military confrontation between the NATO allies. If in its bid to push U.S.-backed Kurdish fighters from its border, Turkey moves into the eastern town of Manbij, conflict could follow. Withdrawing is "not something we are looking into," said General Joseph Votel, the head of U.S. Central Command.
Saudi stipends rise — for some | Just as the last of the Saudi princes detained for alleged corruption were being ushered from their incarceration in Riyadh's Ritz hotel, other royals received increased stipends, Vivian Nereim and Matthew Martin report. It may have been a one-off, but the bonus reflects the need to avoid unrest as the kingdom's crown prince overhauls a decades-old social contract built on generous state handouts in return for political loyalty.
Germany deal inches forward | Germany's two biggest parties are closing in on a Sunday target date to complete a coalition pact for Chancellor Angela Merkel's fourth term. Negotiators say talks will go down to the wire, but methodical progress on policy items suggests genuine willingness — and pressure — for a deal. Even then, the wait wouldn't be over: the Social Democratic Party, deeply divided over another run as Merkel's junior partner, will put any deal to a member ballot.
Xi's big gamble | China is drafting a proposal to allow gambling in its holiday hot spot of Hainan, Keith Zhai and Daniela Wei report. The move, which would mark a dramatic shift in China's approach toward the all-but-banned industry, is part of a sweeping plan by President Xi Jinping to attract tourists and showcase the country's continued commitment to foreign investment 40 years after opening to the world.
For weekend reading, bookmark this report by Jonathan Franklin in Venezuela — on the pirates ruling the most lawless market on Earth.
And finally… Bitcoin and flying cars! Bloomberg has launched two new web verticals that examine areas in which humankind is leaping into the unknown. Crypto focuses on how cryptocurrencies and blockchain are redefining finance and technology. Hyperdrive explores what's next for transportation, from electric vehicles to commercial space travel.
Before it's here, it's on the Bloomberg Terminal.
LEARN MORE