YouTube Apologizes for Translation Error in Polish Leader's Video About Holocaust Bill
By and
Captions on YouTube misrepresented Polish premier's statement

YouTube apologizes for error caused by automatic translation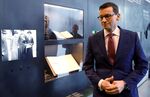 Poland's attempts to defend a bill outlawing public allegations it was complicit in Holocaust-era crimes were dealt a blow by a translation blunder that turned the prime minister's words on their head.
English-language captions by YouTube on an address Thursday evening suggested Premier Mateusz Morawiecki had said "camps where millions of Jews were murdered were Polish," whereas what he actually said was that they "weren't Polish." The footage had more than 30,000 views.
"The error was caused by an automatic translation on YouTube, for which we are sorry," Adam Malczak, a spokesman for the website, said in an email response to questions from Bloomberg News.
An English-language version of the speech by Morawiecki appeared on the website Friday.
Poles say they're unfairly held complicit in Nazi war atrocities. The law would impose fines or as long as three years in prison for saying Poland bears responsibility for crimes against humanity committed by Nazi Germany on its soil.
But the legislation has angered Israel, whose Foreign Ministry said Thursday that it "views with utmost gravity any attempt to challenge historical truth.
"No law will change the facts," the Israeli ministry said.
The U.S. State Department described the bill as a threat to free speech and urged Poland to reassess the potential to hurt relations with the U.S. and Israel.
Before it's here, it's on the Bloomberg Terminal.
LEARN MORE