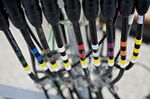 Shares of Sprint Corp. and Charter Communications Inc. have acted like bookends so far this year, with Sprint continuing its long slide and Charter pushing higher. So it's only appropriate that on Friday, when they released their latest results, Sprint posted the worst new subscriber tally in its peer group, while Charter's cable-TV business had the best, relatively speaking. 
While Sprint and Charter seem to be moving in opposite directions, there's good reason to take a look at them together. After all, in this fast-moving environment of consolidation in telecom and media, that's how they may end up. 
First, Charter. In the three months through December, the John Malone-backed cable company added a humble 15,000 video subscribers -- mostly business customers -- as it continued integrating its $79 billion takeover of Time Warner Cable and moving those customers over to its new pricing and packages. Meanwhile, Comcast Corp. and AT&T Inc. suffered subscriber losses (excluding the impact of AT&T's DirecTV Now streaming service), and Dish Network Corp., which hasn't reported results yet, likely had another painful period when ignoring the growth in Sling TV. 
Now that Charter has worked through the Time Warner Cable merger, it's high time the company clarifies 1) its strategy to enter the extremely competitive wireless space; 2) its plans for original programming after recruiting Katherine Pope to spearhead the efforts; and 3) its M&A appetite.
That brings me to Sprint. The No. 4 wireless carrier reported a whopping $7.2 billion of net income for the quarter -- but wait, $7.1 billion of that was due to tax changes. To the company's credit, though, it has been cutting costs and made the unusual move to raise prices to help support its increase in capital spending, which is needed to improve the network and stay competitive.
Even so, it added fewer subscribers than its three larger rivals, and early gains in its stock price Friday morning look meager in comparison to its slump in recent months (which came as it unexpectedly and foolishly nixed merger plans with T-Mobile US Inc. last year). 
According to reports last summer, Malone, Charter's top shareholder, had tried to persuade Comcast CEO Brian Roberts that the two cable giants, which agreed to temporarily work together on their wireless ambitions, should team up to buy the fledgling Sprint carrier. Shortly thereafter, Charter made a public statement scoffing at the idea: "We understand why a deal is attractive for SoftBank, but Charter has no interest in acquiring Sprint." Is that still the case? 
Investors still seem dubious of Chairman Masayoshi Son's vision for Sprint, which is controlled by the Japanese billionaire's SoftBank Group Corp., and it seems only a matter of time before T-Mobile hooks up with another player. Sprint CEO Marcelo Claure was even asked on Friday's earnings call whether the company may go private, a decision he said is ultimately up to SoftBank.
Sprint's team may be high-fiving this quarter, but whether it can be a financially viable, independent player in the long run is still debatable. 
Before it's here, it's on the Bloomberg Terminal.
LEARN MORE