business
Sony Promotes Kenichiro Yoshida to CEO, Hirai Named Chairman
By
Both executives were instrumental in Sony's turnaround

Hiroki Totoki to replace Yoshida as chief financial officer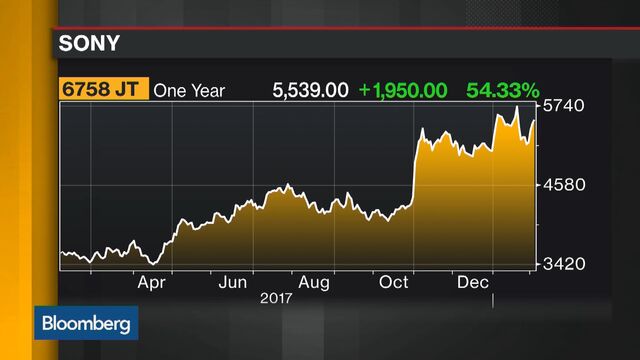 Sony Corp. will promote Kenichiro Yoshida to chief executive officer, rewarding its finance head for helping to restore earnings and the balance sheet of the Japanese electronics icon.
Kazuo Hirai will step down to become chairman of the Tokyo-based company, while Hiroki Totoki will become the new chief financial officer, Sony said in a statement Friday. The changes will take effect April 1. Sony shares rose 2 percent after the announcement.
Yoshida, 58, is highly regarded by analysts and investors for his role in bringing financial discipline to Sony after years of losses from consumer electronics. Together with Hirai's focus on profitability over growth, the pair have steered the Japanese icon to recovery, with the company projected to post record full-year earnings this fiscal year.
"This is a very orderly change and the market is likely to digest it without much discomfort, or perhaps even take it positively," said Kazunori Ito, an analyst at Morningstar Investment Services in Tokyo. "Sony's turnaround really didn't take off until Yoshida was appointed."
For a profile of Yoshida, click here
Under their reign, Sony's sold off its Vaio personal-computer business, reshaped its TV set unit and focused the mobile business away from a destructive fight for market share. The company has used image sensors and PlayStation games to rebuild the company.
The company is due to report December quarter earnings later on Friday after the market close. Analysts predict that operating profit will nearly quadruple to 232 billion yen ($2.1 billion) on robust PlayStation shipments and higher sales of image sensors used in new smartphone models.
"Hirai achieved the mid-term plan and is leaving at a high," said Atul Goyal, an analyst at Jefferies Group. "He can go down in history books as the person who turned around Sony, but it was Yoshida driving things behind the scenes."
Yoshida, a 30-plus year Sony veteran, spent much of his career outside the company's core electronics operations, including stints in the U.S., the finance division and investor relations. From 2000 to 2013, he mostly worked for the So-net internet business, rising to the head of the unit in 2005 and taking it public.
He became deputy CFO in December 2013, when Hirai appointed him after a year of struggling to contain losses in consumer electronics. The following year Yoshida oversaw the sale of Sony's Vaio laptop business and was appointed to CFO, where he made the difficult decision to scale back and restructure the mobile phone division.
"In terms of his management skills, I think he is the best executive in Japan," Goyal said of Yoshida. "He knows Sony inside out and is content in playing to his strengths for profitable growth. He changed Sony's mindset from transactional business — sell one TV or a smartphone and you're done — to a recurring, subscription mindset."
Totoki, 53, was appointed as head of the mobile phone unit in late 2014. Having worked closely with Yoshida at So-net, Totoki was entrusted to scale back Sony's Xperia smartphone business from North America amid losses to Apple Inc. and Samsung Electronics Co. Today, the mobile division is a shell of its former self, but Sony expects the unit to become profitable for a second straight year.
— With assistance by Pavel Alpeyev
(
Updates with analyst's comment in seventh paragraph.
)
Before it's here, it's on the Bloomberg Terminal.
LEARN MORE