Olivier Sarkozy Raises About $400 Million for Fund
By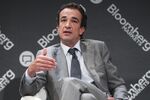 Olivier Sarkozy, the former head of Carlyle Group LP's financial services group, has raised about $400 million so far for his new private equity fund, people with knowledge of the matter said.
His firm, Further Global Capital Management, is targeting $1.25 billion for the maiden fund, according to a regulatory filing Wednesday. Investors have to commit a minimum $10 million, the filing shows.
Further Global, based in New York, is also close to striking its first investment, said the people, who asked not to be identified because the information is private. The deal would be with a North American financial services business, the people said.
Sarkozy, 48, left Carlyle in 2016 after eight years and previously was global co-head of UBS Group AG's financial institutions group. He's the half-brother of former French President Nicolas Sarkozy.
Further Global will target deals in which it can deploy $75 million to $200 million, according to its website. It's comfortable with both control buyouts and minority investments, the website says.
Sarkozy has hired former Canadian Imperial Bank of Commerce banker Richard Venn and former Goldman Sachs Group Inc. banker Susan Ciccarone as partners at the firm.
At Washington-based Carlyle, Sarkozy led investments in TCW Group Inc., BankUnited Inc., Boston Private Financial Holdings Inc., Central Pacific Financial Corp. and Duff & Phelps Corp., among others. The first financial services fund he oversaw at Carlyle, which finished gathering $1.1 billion in 2010, was valued at 2.2 times cost and generated a 14 percent annualized return after fees as of Sept. 30.
Before it's here, it's on the Bloomberg Terminal.
LEARN MORE