Nektar Therapeutics Weighs Options Including Sale
By , , , and
Biotechnology company is also said to weigh partnerships

Nektar market value has more than tripled to $15 billion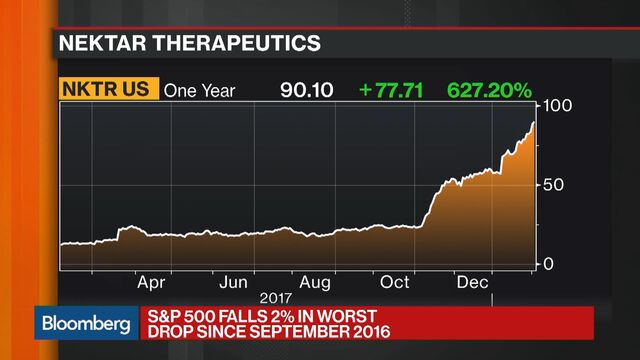 Nektar Therapeutics is exploring options including a potential sale of the $15 billion biotechnology firm, according to people with knowledge of the matter.
The San Francisco-based company could also opt for partnerships and licensing agreements instead of a disposal, said the people, asking not to be identified as the discussions are private. Nektar has attracted interest from larger drugmakers, though some potential suitors are wary of a full takeover because of the high valuation and risks related to its pipeline of experimental drugs, the people said.
No final decisions have been made and considerations may not lead to a transaction, they said.
Shares of Nektar rose as much as 12 percent Friday in New York trading, closing down 0.8 percent to $88 as stocks fell across the board. Still, Nextar has more than tripled since early November on positive results for its experimental cancer drug, NKTR-214. The Nasdaq Biotechnology Index climbed about 10 percent in that time.
A representative for Nektar didn't respond to requests for comment.
A Nektar sale would add to a $25 billion burst of biotechnology and drug deals since Jan. 1, with extra cash from the U.S. tax law passed last year seen as fueling a continuing boom. The tax law should unlock about $160 billion in overseas cash for big drugmakers to spend on takeovers, Goldman Sachs Group Inc. analyst Salveen Richter has estimated.
This year's deals have included French giant Sanofi agreeing to buy U.S. biotech Bioverativ Inc. for $11.6 billion to add treatments for hemophilia. Celgene Corp. spent $9 billion on Juno Therapeutics Inc., getting into a breakthrough field of cancer therapies that cost more than half a million dollars.
Drug Combo
Bristol-Myers Squibb Co. and Nektar partnered for a trial in September 2016 and are enrolling patients in a phase 2 study exploring the drug's effectiveness in a larger group, the companies have said. Nektar doesn't currently have any drugs on the market.
The positive data from an earlier trial in which NKTR-214 was tested in combination with Bristol-Myers's Opdivo raised hopes that Nektar's drug could improve the effectiveness of a class of cancer treatments called checkpoint inhibitors. Those drugs include Opdivo and Merck & Co.'s Keytruda, among others.
Checkpoint inhibitors, while powerful, have only been able to help about a third of patients, so drugmakers have been hunting for combination candidates that may expand the population of eligible patients.
High Stakes
Brad Loncar, an investor who founded an exchange-traded fund that focuses on cancer immuno-therapies, said Nektar's cancer drug is unique asset, creating a high-stakes game for pharmaceutical companies.
"Owning NKTR-214 could either put an acquirer in a league of their own," Loncar said, "or blow up in their face, because all the excitement surrounding this drug is based on very little patient data, as intriguing as it is."
Nektar also has an opioid that is close to market. The treatment, which Nektar says would be a safer, less addictive painkiller, had positive final-stage data in patients with chronic lower-back pain.
— With assistance by Dinesh Nair, and John Lauerman
Before it's here, it's on the Bloomberg Terminal.
LEARN MORE