markets
Here's What Wall Street Is Saying About Apple's Earnings Report
Jeran Wittenstein and Kasper Viita
Positive signs for pricier iPhone demand as unit sales falter

Focus shifting from product-led growth to capital returns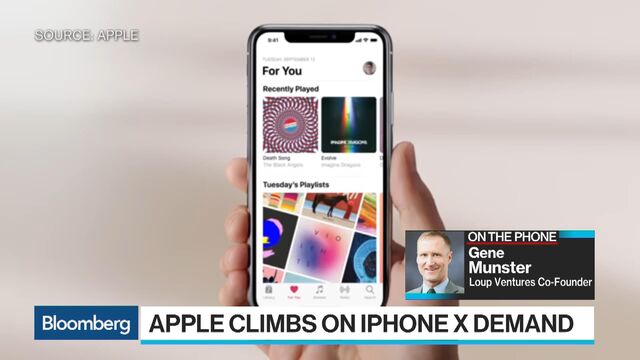 Apple Inc. is selling fewer iPhones, and that's alright.
Analysts are instead focusing on signals pointing towards better-than-feared demand for its more expensive devices, such as its flagship iPhone X. Cash repatriation plans combined with management comments indicating higher buybacks and dividends offset declining unit sales in the quarter. Initial optimism after Thursday's earnings was tempered by two analyst downgrades due to the soft iPhone sales, with shares hovering around the previous close in pre-market trading.
A higher-than-expected average selling price, as well as signs of renewed growth prospects in China, balanced out some concerns after recent reports that Apple was cutting orders to suppliers and consumers were holding back on iPhone purchases. The results were welcomed by investors in the suppliers of some of the more advanced iPhone components, such as Universal Display Corp., which supplies OLED panels for the iPhone X, as well as Austrian 3D sensor maker AMS AG.
Bernstein, Toni Sacconaghi
Downgrades Apple to market-perform from outperform, cutting price target to $170 from $195
Says that the iPhone cycle is weak relative to expectations, and total iPhones sold are likely to be unchanged for the third straight year
Worries that Apple risks missing on its second- or third-quarter guidance, akin to what happened with its iPhone 6S cycle
"Risk-reward is coming more into balance, particularly since it is unclear what catalysts might exist for the shares in the near-to-medium term"
Despite the concerns, he says he's "not calling for material underperformance" in the stock or underestimating Apple's potential to rebound
Keybanc, Andy Hargreaves
Downgrades Apple to sector weight from overweight
The cash returns should support the stock, yet soft iPhone sell-through suggests a saturated market, and the lack of gross margin upside reduces view of potential profit growth
An aggressive dividend could support stock appreciation, but a more modest approach is more likely as not to signal a lack of growth or increase interest-rate sensitivity in the shares
Bank of America Merrill Lynch, Wamsi Mohan
Apple's gross margin forecast on significantly lower revenue reflects better-than-expected sales of more expensive models like the iPhone X, 8 and 8 Plus vs older models
The revenue forecast implies 50 million to 53 million iPhone units
Continued growth in services revenue and China sales was a positive
Retains buy rating, price target of $220
GBH Insights, Daniel Ives
Apple's plans to reduce net cash to "roughly zero" means major buybacks and dividends are on the way
The "repatriation party" is now in full gear, which is a "major positive" for shares
Combination of better-than-expected average selling prices, cash repatriation, multiple upcoming device releases and signs of renewed growth prospects in China gives confidence that Apple will emerge a "stronger fundamental story" exiting 2018
Loup Ventures, Gene Munster
Year-over-year growth in iPhone average selling price shows Apple's ability to command a premium has "never been more clear"
Apple's long-term opportunity is a growing active device base coupled with increasing revenue per device, with services revenue being an important part of the latter
iPhone unit miss is "more than offset" by the ASP and services story
"We view a bet on shares of AAPL as a bet on the company's ability to transition from their existing iPhone platform to an augmented reality-driven platform in the future"
Mirabaud, Neil Campling
"The smartphone cycle based on higher volumes is dead. The 'new' smartphone cycle is one which is based around content growth and design wins for suppliers"
Price of $999 a phone is too high in the first instance, yet consumers take the plunge when there is must-have technology or they have a fear of missing out
On must-have technology: "That is not Face ID. But it is augmented reality applications and when must-have games only work on new form-factor devices"
Apple is not required to shift huge volumes of the iPhone X, given "unparalleled" gross margin of 64% for the phone
Piper Jaffray, Michael Olson
Quarter "better than feared" on favorable iPhone X mix, which drove average selling price higher than expected
Expects Apple to release new devices similar to iPhone X late this year, with potentially a lower-priced option or the current iPhone X with a price cut, and a bigger version which "tests the upper bounds of pricing" and provides an option for those looking for more screen real estate
Retains overweight rating, price target of $200
Mizuho, Abhey Lamba
Management commentary indicates a step-up in capital returns via buybacks and dividends amid repatriation news flow, expects "stronger buyback program and bigger jump in quarterly dividend in April"
Second-quarter guidance shows downside, bigger step-down in average selling prices on an incremental mix shift away from high-end devices
"Our checks suggest that demand could taper sooner than expected into the upcoming product cycle"
Retains neutral rating, price target of $175
Bloomberg Intelligence, John Butler and Matthew Kanterman
Second-quarter revenue guidance fell short of views, which will fuel concern about the iPhone's future growth
Despite the iPhone X's initial promise, Apple's transition to a more balanced sales mix between hardware and services is becoming increasingly urgent
Services increased 18.1 percent in the first quarter to 9.6 percent of total sales, suggesting the company needs more time for services to expand to where they can pick up any significant slack in iPhone sales
Before it's here, it's on the Bloomberg Terminal.
LEARN MORE