Deutsche Bank Traders Finally Have Something to Smile About
By , , and
'We're talking about investing for the future,' Cryan says

Lower revenue, higher compensation helped fuel losses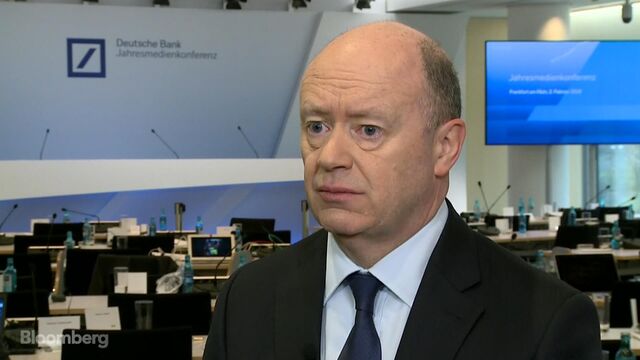 Deutsche Bank AG Chief Executive Officer John Cryan, seeking to restore morale after massive bonus cuts last year, raised compensation for traders and bankers in 2017. He didn't get much in return.
Trading at Frankfurt-based Deutsche Bank slumped 27 percent in the fourth quarter to 886 million euros ($1 billion), while fees from advising on deals and arranging debt and equity sales fell 3 percent. Higher bonuses combined with the decline fueled a loss at the German lender's investment bank.
"I think we've actually been erring slightly on the generous side" when awarding bonuses for 2017, Cryan said in an interview with Bloomberg TV Friday. "We took a risk last year" by slashing variable compensation almost 80 percent. Now, "we're talking about investing for the future."
Cryan is trying to motivate and retain highly-paid investment banking staff, while keeping a lid on costs after three straight years of losses. But with revenue at a seven-year low, even a relatively small increase in compensation is pushing the securities unit into the red. The bank's Chief Financial Officer James von Moltke on Friday urged a return to more disciplined cost management after the lender had to give up its expense target.
Given the bank's focus on costs, this year's "generosity" will not be repeated next year and staff should only expect increases if the bank's performance improves, too, Cryan said. The investment bank paid "one-off" bonuses for the past year to bolster morale in the unit, Cryan said in his speech.
Analysts questioned why higher pay hasn't resulted in better performance.
"The issue is why the revenues are so poor," said Piers Brown, an analyst in London with Macquarie Bank Ltd.
Losing Talent
Deutsche Bank didn't say how much it had set aside to cover bonuses for 2017, which are typically paid in March. Von Moltke said the bonus pool accounts for less than a fifth of the 12.2 billion euros the bank had in compensation expenses last year. He also said that accruals for bonus payments in the final quarter were up by 750 million euros compared with the final quarter of 2016.
The bank lost several senior employees last year after slashing variable compensation, and investment banking co-head Marcus Schenck on Friday suggested some of the underperformance in the equities business may be related. Revenue from Deutsche Bank's equities unit fell 25 percent to 332 million euros, one of the worst quarterly performances reported by global lenders so far.
"We clearly recognize that the equity derivatives business is one that we need to improve," Schenck said. Peter Selman, the ex-Goldman Sachs partner hired to run the struggling business late last year, has a "specific equity derivatives background," he said.
Equity derivatives are products whose value is tied to underlying stocks. Garth Ritchie, who oversees Deutsche Bank's markets division in London, started his career trading the instruments in South Africa.
'Absolutely Not'
The decline in equities trading compares with a 14 percent drop at Goldman Sachs Group Inc. and a 23 percent fall at Citigroup Inc. While U.S. lenders reported more than $1 billion in losses as a result of an accounting scandal at Steinhoff International Holdings NV, the debacle was "not a big event for us," Schenck said.
Some of the declines in revenue were similar to those reported by Deutsche Bank's biggest rivals, executives said, as the industry struggled with a slump in volatility that caused clients to engage in fewer transactions.
Fixed-income trading, the biggest single revenue generator in the investment bank, fell 29 percent for the quarter to 554 million euros, less than the 34 percent drop posted by JPMorgan Chase & Co. Citigroup Inc. fell 18 percent and Goldman Sachs Group Inc. plunged 50percent.
"Are we gaining ground? Yes we are," Cryan said. "Are we regaining trust that was lost? Yes we are. Are we satisfied with our current results? Absolutely not."
— With assistance by Matthew Miller
Before it's here, it's on the Bloomberg Terminal.
LEARN MORE