Deutsche Bank Investors See No Silver Lining as Results Drop
By and
Bank to pay one-off bonus to boost investment banking business

Revenue falls to seven year-low; bank posts third annual loss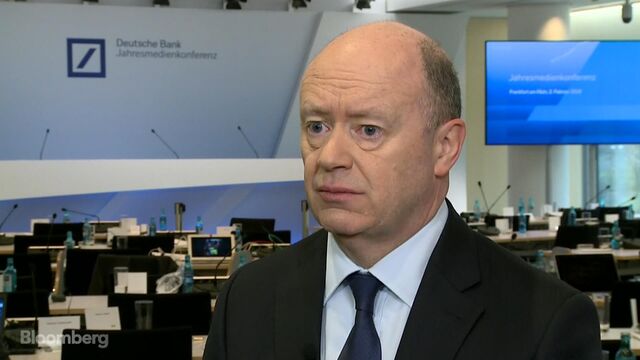 Deutsche Bank AG investors searching for good news after the bank's third straight annual loss found little to give them optimism.
The Frankfurt-based lender, which had already guided for a slump in trading earnings, surprised with revenue that fell to the lowest in seven years and declines at businesses from transaction banking to equity derivatives. Even cost control -- a key feature of Chief Executive Officer John Cryan's tenure -- was worse than expected.
"The results are disappointing again and we don't see anything encouraging in them, reinforcing our doubts in the bank's strategy and management," said Michael Huenseler at Assenagon. "There's no silver lining."
Cryan, who again expressed the bank's dissatisfaction with the results, is still holding out hope for a return to growth in 2018, saying that he expects higher returns with sustained discipline on costs and risks. Client activity picked up in January, he said, pointing to good economic growth in all major global markets. The bank is paying a one-off bonus to its corporate and investment bank as it seeks to strengthen the business, he said.
Investors were unconvinced by Cryan's pledge for growth, which echoed similar predictions by the bank a year ago. The shares fell as much as 7.1 percent in Frankfurt, the most since March, and were 5.4 percent lower at 13.98 euros as of 2:13 p.m. local time.
Cryan, 57, is running out of time to show he can lead Europe's largest investment bank back to strength, after more than two years of scaling back risk, improving controls and settling legacy misconduct cases. The cerebral Brit has defended his strategy, saying two weeks ago that his turnaround plan had entered a "third phase" in which growth should finally be restored.
"What must frustrate investors, in the stock in particular, is the lack of positive news," said Gildas Surry, a portfolio manager at Axiom Alternative Investments in London which manages about $1.3 billion, including Deutsche Bank bonds. "FICC down, financing down, costs up, loan provisions down."
The CEO raised capital in the past year, reorganized the bank's divisions, prepared the asset management arm for a partial public offering and is working to re-integrate the Postbank consumer lending unit. Yet several of his shareholders, penalized by the worst performance among European bank stocks in the past year, have signaled they may stop backing him if the numbers don't improve soon.
To be fair, much of what's driving the ongoing slump in revenue -- a lack of volatility in markets, writedowns tied to the U.S. tax reform -- is beyond the control of the CEO, and has driven comparable results at the bank's U.S. peers. Goldman Sachs Group Inc.'s fixed-income unit turned in its worst performance in more than a decade last quarter, with a slump of 50 percent. The one piece of good news was also a strengthening of the bank's capital levels.
Deutsche Bank's results included a charge of 1.4 billion euros ($1.8 billion), flagged last month, to reflect a lower value of its deferred tax assets following the reform of the U.S. corporate tax. The lender at that time also said it would probably post a full-year loss. Going forward, the change in tax rate should have a positive impact on net income, it said.
Overall trading revenue at the investment bank, excluding financing, declined 27 percent, Deutsche Bank said. Trading revenue in January was slightly lower than in the same month a year earlier, Chief Financial Officer James von Moltke told reporters in Frankfurt on Friday.
The bank's one-time additional bonus for its investment bankers may help motivate traders and other staff and stem defections. Deutsche Bank may have "erred slightly on the generous side" when allocating bonuses for 2017, though not for everyone, Cryan said in a Bloomberg TV interview. The executive also signaled that the bank at some point could consider a merger with rivals, though not at this time.
The bank scrapped its cost target for this year, saying it expects expenses of 23 billion euros, compared with an earlier estimate of 22 billion euros. The earlier target included 900 million euros of cost savings to be achieved through business sales that the company said had been delayed or suspended.
"The increase in costs has to be the biggest takeaway," said Piers Brown, an analyst with Macquarie Bank Ltd. who has a sell rating on Deutsche Bank shares. "It has to be given it's Cryan's signature piece and seems to be veering off course."
Other highlights from Deutsche Bank's fourth-quarter earnings:
4Q net revenue EU5.71 billion, lowest since 2010
4Q sales and trading revenue EU886 million, down 27 percent
4Q loss 2.18 billion euros; estimate was for loss 2.24 billion euros
4Q common equity Tier 1 ratio 14 percent
FY loss after tax 512 million euros
Sees 2018 credit costs, litigation costs rising
Sees rate normalization enabling improved revenue
— With assistance by Donal Griffin, and Jan-Henrik Foerster
Before it's here, it's on the Bloomberg Terminal.
LEARN MORE