business
Belichick Has One Stubborn Blemish on His Hall-of-Fame Resume
By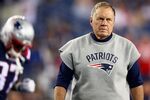 New England Patriots coach Bill Belichick is the Jack Welch of football. His assistants are routinely sought after by other teams as head coach -- much as Welch's disciples were recruited to run companies like 3M and Home Depot.
The latest moves: The Detroit Lions are about to hire Matt Patricia and the Indianapolis Colts appear on the verge of signing Josh McDaniels as their head coaches. Patricia would be the fifth Belichick assistant to ascend to a top job. McDaniels previously served as head coach of the Denver Broncos.
But if the owners of those teams are hoping for some Belichick magic, they might consider some history. None of his former assistants, such as Romeo Crennel or Eric Mangini, have coached teams that even made it to the Super Bowl, let alone win it. Their record in the regular season is a dismal 127-176.

By contrast, disciples of Bill Walsh, the one man who can rival Belichick for title of greatest NFL coach in the modern era, have fared much better.
Drilled in the nitty-gritty of Walsh's famed West-Coast style of offense, they've gone on to rack up a record of 567-469 and make seven Super Bowl appearances, including three victories. (Extend the Walsh coaching tree to the disciples of the disciples and you can add hundreds of more regular-season victories and a couple more Super Bowl titles.)

Before it's here, it's on the Bloomberg Terminal.
LEARN MORE