Drinks
A Hotel for No One Is Patron's Secret Marketing Weapon
What to expect if Patron ever invites you to spend the night at the La Casona guesthouse next to its distillery.
By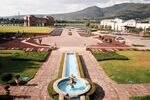 On a warm November evening in Atotonilco El Alto, Mexico, a group of Midwestern spirits distributors and restaurant employees sipped Patrón tequila cocktails and nibbled charcuterie around the world's most luxurious fire pit. They'd spent a long day touring the distillery of Patrón Spirits Co. and were settling in at the company's guest house, La Casona, for an evening that Peter Leder, director of hospitality, promised would be "full of surprises." One distributor, Tyler Prange, kicked back in his dinner slacks: "It's nice that you don't have to stay in a budget hotel."
Everybody laughed, because La Casona, which Patrón officially opened in January 2017, isn't budget anything. In recent months it's hosted celebrities (Guillermo del Toro, Padma Lakshmi), culinary luminaries (Robert Irvine), journalists, and social media influencers. The property is invite-only and totally free, designed solely for people whose connections or digital platform can help promote Patrón as emblematic of true luxury. "Every single detail of our brand matters: the cork, the signed labels, the ribbons that are hand applied," says Lee Applbaum, Patrón's global chief marketing officer. "We had to apply the same spare-no-expense details of making the tequila to building La Casona. Could I charge somebody $5,000 a night to stay here? If the answer is no, then it's not yet up to par."
Patrón was one of the first brands to popularize tequila made entirely from agave and, by extension, the idea that the spirit isn't just for spring breakers. In 2016, 100 percent agave tequilas reached more than 50 percent of U.S. imports for the first time. Competitors including Don Julio 1942 and Herradura are growing, but they aren't close to cracking Patrón's market share. Of the 3.26 million cases of luxury tequila sold in the U.S. in 2016, 2.3 million were Patrón—a number that made the brand attractive enough for Bacardi Ltd. to value it at $5.1 billion in a purchase this January.

Success has created its own problems for Patrón. "There's a perception that we're this massive brand that's mass-produced," says KJ Pignatelli, Patrón's state manager for Indiana and Wisconsin, who'd invited the Midwesterners to Mexico. The misconception has many sources. The company has a large headquarters in Las Vegas, so people don't realize the product is distilled and bottled in Mexico, much of it in small batches using a wheel carved out of volcanic rock to macerate the agave and squeeze juice from the pulp. Its co-founder is also American (billionaire John Paul DeJoria of Paul Mitchell hair-care fame), which reads as inauthentic. And the brand's appearance in pop lyrics, usually in the context of a big night at the club, suggests rowdiness, not sophistication. "There are too many incorrect stories," Pignatelli says.

La Casona has only 20 rooms, and the overall aesthetic is above and beyond. Ceilings loom at more than 30 feet. Beds are 5 inches longer than a standard king. And the bar—featuring 40 cocktails and stocked with 18 high-end tequilas, all Patrón—is lined with leather chairs so deep you feel like a child. Notably, there's no pool. Patrón decided that free-flowing alcohol and swimming didn't mix. But there is a VIP lounge and bar for guests who are deemed very, very important. (Del Toro has used it as his personal work space.)
After the fire pit, the staff ushered the guests (two Instagram/YouTube stars among them) into the dining room for a dinner of microgreens with beets, a beef fillet with mole, and, finally, a custard, plated with various mousses and candies. At last came the "surprise" they'd been promised: a six-member mariachi band, playing Hotel California and Can't Take My Eyes Off You. The performance, like everything else about La Casona, was fully on-the-nose and altogether too much.


Before it's here, it's on the Bloomberg Terminal.
LEARN MORE