Wall Street Sees Reason to Buy PayPal After EBay Jumps Ship
By and
PayPal tanks 8.5% in Thursday morning trading, EBay jumps 14%

Some analysts see buying opportunity as PayPal keeps growing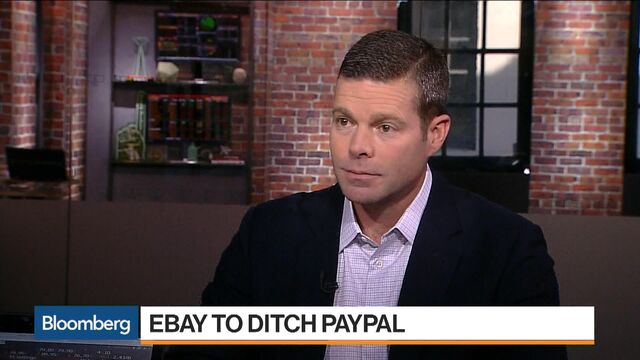 Investors are cheering Ebay Inc. and knocking PayPal Holdings Inc. after EBay said it will shift its payments business to Adyen BV, a global payments company based in the Netherlands, from long-time partner PayPal. Some analysts see a buying opportunity in PayPal's slide, as the company focuses on growth in the evolving payments sector, may be eyeing mergers and acquisitions and is probably able to handle the EBay change.
Here's a roundup of what analysts are saying about the new agreement, and the companies' earnings reports:

Analysts on PayPal:
Credit Suisse, Paul Condra
(PYPL outperform, PT $91)
Buying opportunity for PYPL as market overreacts, EBAY deal tanks stock
End of EBAY was always anticipated in outlook; Credit Suisse sees little, if any, EPS headwind, assuming PYPL loses all the non-branded EBAY volume in 2021 and ultimately maintains 50% of the remaining branded volume
Mgmt stressed it had always anticipated this outcome in its medium term guidance and longer term outlook, flagged potential margin benefit from shedding EBAY's non-branded processing, disproportionate losses/costs
Deal removes the last overhang on stock, introduces potential positive catalyst for PYPL to win partnerships from competing marketplaces, like Amazon; adds that M&A may be "significant and sustained" considering PYPL's $20b+ in buying power


Nomura Instinet, Bill Carcache
(PYPL buy, PT $85)
Opportunity to accumulate on weakness
PYPL will probably be able to offset 8% EPS headwind by deploying its ~$20b of liquidity via strategic M&A, buybacks, new partnerships with larger, faster-growing marketplaces that were previously off limits
Flags PYPL's organic growth (core growing ~30% vs mid-single digits on EBAY)
Goldman, Heath Terry
(PYPL buy, on conviction list, PT $90)
PYPL reported another strong quarter
While that will be overshadowed by news of EBAY's decision to partner with Adyen, Goldman estimates less severe financial impact to PYPL than after-hours stock reaction
Monness Crespi, James Cakmak
(Rates PYPL buy, PT $88)
Owning PYPL is about owning the leader in global payments, not EBAY
Pullback is buying opportunity as shares are getting hit despite continuing evidence of strength in underlying core, rising adoption/engagement, improving operating efficiencies; PYPL is best-positioned to capture economics of shift from analog to digital payments
Notes EBAY relationship has been in constant decline since the spin
Morgan Stanley, James Faucette
(PYPL overweight, PT $88)
Morgan Stanley had already modeled impact from an evolving relationship with EBAY; expects EPS impact will be quite manageable
Adds PYPL expects tax rate of 17%-20% over next 3 years, better than some investors feared
PYPL "once again" delivered strong quarter, driven by strong customer adds and user engagement
SunTrust, Andrew Jeffrey
(PYPL hold, PT to $80 from $75)
"Greater relevance, growing competition"
"There is a lot to like," including more share, growing engagement, cash-rich balance sheet
That's likely balanced by a fair valuation, potentially greater competition; flags SoftBank, strong Zelle growth in addition to "an apparently manageable, if comprehensive," EBAY transition
BITG, Mark Palmer
(PYPL cut to neutral from buy)
Cut as 4Q results weren't strong enough to justify the stock's "lofty" valuation
While PYPL's growth rate may merit some premium versus Mastercard and Visa, valuation gap is "just too wide"
PYPL isn't particularly well-positioned among financial stocks for macro trends; isn't poised to benefit from tax overhaul like other cos., such as SYF; notes investors tend to rotate into regional banks, insurers and other businesses as rates rise and out of secular-growth companies like PYPL
Analysts on eBAY:
RBC, Mark Mahaney
(Upgrades EBAY to outperform from sector perform, PT to $51 from $39)
Upgrade based on continued acceleration in GMV, surprise payments announcement, and "materially ramped up" ($3.5b per year) share repurchases
Sees Adyen partnership as "material" (10%+) new rev., profit driver for EBAY
BMO CAPITAL, Daniel Salmon
(EBAY outperform, PT to $55 from $45)
Delivered "solid" results and guidance, with U.S. gross merchandise volume showing "nice acceleration"
While details of new payments strategy need to be worked out, takeaways of $2b in new rev., $500m of operating income "justify a premium multiple"
Also flags added $7b of share buybacks by year-end 2019
KEYBANC, Brad Erickson
(EBAY sector weight)
EBAY gave bulls what they "were looking for" with small and steady operational improvements, shareholder-friendly capital allocation, and payments overhaul with "potentially significant" longer-term earnings accretion
PYPL payment announcement is "cause for stock re-rating," may lead to 10%-15% bump to earnings
BENCHMARK, Daniel Kurnos
(EBAY buy, PT to $53 from $45)
EBAY shares finally look "poised to break out" after the strong 4Q, accelerating 2018 growth guidance, anticipated $2b rev. stream once PYPL operating pact expires
Before it's here, it's on the Bloomberg Terminal.
LEARN MORE