Fitness
Recovery Is the Latest Buzzword in High-Intensity Workouts
After years of pushing extreme exercise, doctors and trainers discover that injury protection is important, too.
By
Recovery Is the Latest Buzzword in High-Intensity Workouts
By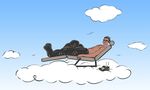 High-intensity workouts are more popular than ever, as lay people mimic the way professional athletes train. Now coaches and doctors have brought that elite approach to the recovery process, helping non-pros use high-tech tools to avoid injury and heal faster.
"We're definitely seeing a proliferation of recovery services," such as cryotherapy and infrared saunas, says Alexia Brue, chief executive officer of the health website Well+Good. But the benefits of these immersive procedures typically come with frequent use, something too expensive or inaccessible for people not named Tom Brady. For the average workout fiend, the most effective products to arrive on the scene are compression sleeves, which can feel as ridiculous as sitting in a massage chair at the mall. In practice, however, I've found them to be amazingly restorative.
Boutique gyms such as Tone House Fitness LLC, a Manhattan studio that claims to have the hardest workout in New York, offer compression technology using the NormaTec Pulse system, which aims to improve circulation and reduce soreness after intense sessions. To train for the latest Star Wars film, the cast used a product called Game Ready, whose compression sleeves are connected to a device that rapidly circulates ice water while mimicking natural muscle contractions. It also looks like a proton pack from Ghostbusters.

I'm more of a runner, so when I heard that the Mile High Run Club in New York had incorporated compression sleeves from NormaTec and another brand, Air Relax, into a recovery room it added in January, I was intrigued. MHRC was founded in late 2014, and although its name evokes Denver—and nods to Colorado's spirited running ethos—both of the club's locations are in New York City. The class I took in a studio near Manhattan's Madison Square Park was called High 45, a 45-minute endurance workout led by a former college cross-country runner named Corinne Fitzgerald.
After class, a friend and I took seats in the recovery room, a windowless space that feels like a basement doctor's office. We reclined in comfortable leather chairs and slipped on the leg sleeves, which zip up heel-to-hip like a pair of sleeping-bag pants. When they were plugged in, things got interesting. My legs were fully encased, making for a comprehensive squeeze along my quads as well as my hamstrings. And unlike a torturous post-run massage from a human, this experience was completely soothing. (I did the NormaTec; my friend, who used the Air Relax, raved about it, too.)
The sleeves use air to compress and knead your legs in an effort to increase circulation and speed the healing process for muscles tormented by classes such as Dirty 30 or Dash 28. One coach, Vinnie Miliano, swears by them; like most here, he's got his own high-octane racing goals and is training to set a personal best in the half-marathon. He retreats to the Mile High recovery room every chance he gets.
The science behind air compression for athletes was born from treatments once reserved for muscular and circulatory disorders, but amateurs are increasingly using them as a way to avoid injury. Mile High founder and CEO Debora Warner saw offering the technology as an opportunity to serve affluent, serious runners looking for anything to be ready for the next workout. "We've been trying to allocate as much physical space for recovery for our runners as we can," she says.
In addition to the $34 it costs for a single class (though, as at most studios, you can buy in bulk and get a discount), a recommended 15-minute recovery session is $15. You could also buy your own Air Relax system for about $400. NormaTec's line begins at about $1,500.
I've been known to splurge on running shoes and races in far-flung locales, but I'm not quite ready to spring for my own recovery system. I did feel great after my workout at Mile High, though. A buck a minute might seem a bit indulgent, but the opportunity cost of not being able to run at all may be worth the hedge.