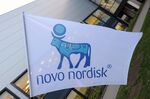 It's been something of a kitchen-sink week for Novo Nordisk A/S. 
It began with the news that Sanofi had outbid the Danish pharma giant for promising biotech Ablynx NV. Then on Thursday, Novo Nordisk announced an executive and board shake-up, reported fourth-quarter earnings that missed analyst expectations and offered weak full-year guidance. The company's U.S. ADRs fell by more than 7 percent, the biggest drop in a year.  
The weak quarter and soft outlook reflect both currency issues and sluggish insulin sales. The interplay between the Danish krone and U.S. dollar will likely swing back in Novo Nordisk's favor at some point. But any insulin problems are far more worrying. 
Novo Nordisk is the cream of the crop of diabetes drugmakers. It's the largest seller of such medicines in the world, and it has produced consistently compelling trial results for a roster of new treatments. Its recently FDA-approved blood-sugar-control drug Ozempic may be the best in its class and is projected to be a blockbuster.
But diabetes is one of the most competitive fields in pharma, with overlapping entrants in just about every category. And insurers and other payers work extra hard to squeeze prices on these drugs lower because so many people need them. 
Wall Street analysts may be overly optimistic about Novo Nordisk's prospects; they expect sales of its older medicines to hold roughly steady through 2021, while forecasting a boom in sales of newer drugs such as the long-acting insulin Tresiba.
But pricing pressure has led Novo Nordisk to cut guidance multiple times in the recent past. The diabetes drug market just keeps getting more competetive. It's the same story for hemophilia, another Novo Nordisk focus.  
It's easy to imagine a scenario in which Novo Nordisk's older medicines erode more rapidly than expected, while its new medicines have lower ceilings that will take longer to reach. That's a risk for any pharma company. But it's especially acute for Novo Nordisk due to its relatively narrow focus. 
Novo Nordisk has a valuation to match the high expectations for its new products. But Thursday's share-price dip suggests the company has plenty of room to disappoint.
The traditional pharma method for dealing with growth threats -- or at least distracting from them -- is dealmaking.
Novo Nordisk is inexpert on this front, to put it lightly. It hasn't made a sizable acquisition in the past decade. Its recent attempt at one was badly mismanaged; a cheap initial bid for Ablynx pushed that biotech into the more-generous arms of Sanofi. It has also done substantially fewer drug-licensing deals than even large biotech firms such as Gilead Sciences Inc., let alone its large-pharma peers.
Such prudence makes Novo Nordisk's ability to generate new medicines all the more impressive, and it leaves the company with a pristine balance sheet. But it may not have the know-how -- or the willingness to hold its nose on valuation -- to get deals done in an environment that currently favors sellers.
Novo Nordisk's position at the top of its market isn't as rock-solid as it may seem.  
Before it's here, it's on the Bloomberg Terminal.
LEARN MORE