business
Bridgewater Triples Bets Against Italian Firms to $3 Billion
By and
Hedge fund firm raises bet against Intesa, shorts Atlantia

Bridgewater raises short positions ahead of national elections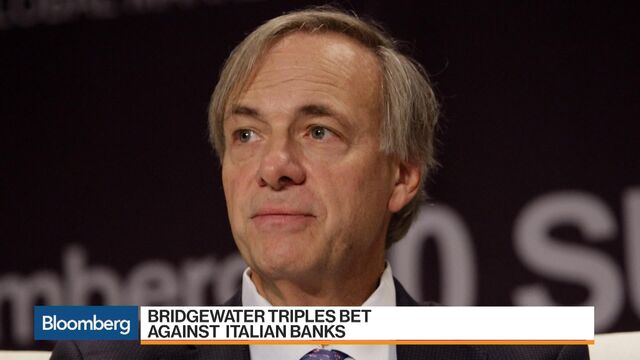 Billionaire hedge-fund manager Ray Dalio's Bridgewater Associates is upping its bets against Italian banks and insurers ahead of the nation's elections next month.
The world's largest hedge-fund firm tripled its bearish wagers against Italian companies in the last three months, mainly focused on the financial sector, data compiled by Bloomberg show. The March 4 election is widely expected to produce no clear winner, which would create difficulties in forming a government and make it hard for the country to produce the wide-ranging economic reforms that investors and the European Union are looking for.
Bridgewater has boosted its bearish bets against Italian companies to $3 billion and 18 firms, up from $1.1 billion of shorts in October. The investment firm's positions against European companies as a whole total $3.3 billion and 20 names, the data show.
The Westport, Connecticut-based firm, which oversees about $160 billion, disclosed a short position on transport-infrastructure provider Atlantia SpA on Tuesday and added to its largest short bet, against lender Intesa Sanpaolo SpA, in recent days.
Atlantia fell as much as 1.9 percent, the most since Dec. 29, on Thursday and Intesa dropped as much as 1.3 percent.
Luigi Di Maio, leader of Italy's anti-establishment Five Star Movement, wants to make it easier for the country's ailing banks to recover assets, allowing them to maximize their returns. Italian banks have more than 270 billion euros ($336 billion) of non-performing loans.
Bridgewater has seen mixed results from its bets. Thirteen of its 20 shorts have lost money, with the shares rising over the last three months. Short sellers sell borrowed shares and buy them back at a lower price, pocketing the difference as profit.
Spokesmen for Bridgewater, Intesa and Atlantia declined to comment.
Bridgewater is increasing its short bets on Italian equities despite the nation's benchmark FTSE MIB index being the best performer among the largest European countries since the beginning of 2018. The FTSE Italia All-Share Banks Index has gained 13 percent this year.
The country's banking system is stabilizing, while economic growth has been better than expected. Still, Italian lenders are weighed down by non-performing loans and European authorities are pressuring them to sell off the soured debt.
Company Name
Country
Price Change in %
(3 Months)
Value of Short
($ Million)
Short Interest (%)
Intesa Sanpaolo
Italy
10.3
-628
-1.0
ENI
Italy
3.5
-607
-0.9
ENEL
Italy
-4.4
-601
-0.9
Unicredit
Italy
9.2
-347
-0.7
Assicurazioni Generali
Italy
1.2
-189
-0.6
CRH
Ireland
-6.8
-162
-0.5
Atlantia
Italy
-4.7
-136
-0.5
SNAM
Italy
-10.5
-87
-0.5
Andritz
Austria
1.1
-69
-1.1
Terna
Italy
-5.5
-61
-0.5
Prysmian
Italy
-4.4
-55
-0.7
Mediobanca
Italy
3.9
-54
-0.5
Moncler
Italy
8.3
-43
-0.5
Banco BPM
Italy
2.6
-41
-0.7
Leonardo
Italy
-34.9
-40
-0.5
Finecobank
Italy
26.4
-38
-0.5
UBI Banca
Italy
4.4
-37
-0.6
BPER Banca
Italy
14.6
-20
-0.7
Azimut Holding
Italy
8.6
-20
-0.6
Unipol Gruppo
Italy
13.7
-20
-0.5
Source: Bloomberg, company filings
Data as of 15:57 GMT
— With assistance by Sonia Sirletti
(
Updates with Italian shares from fifth paragraph.
)
Before it's here, it's on the Bloomberg Terminal.
LEARN MORE